How To Frame A Painting | Our Guide to Displaying Your Art In Style

Aidan Casey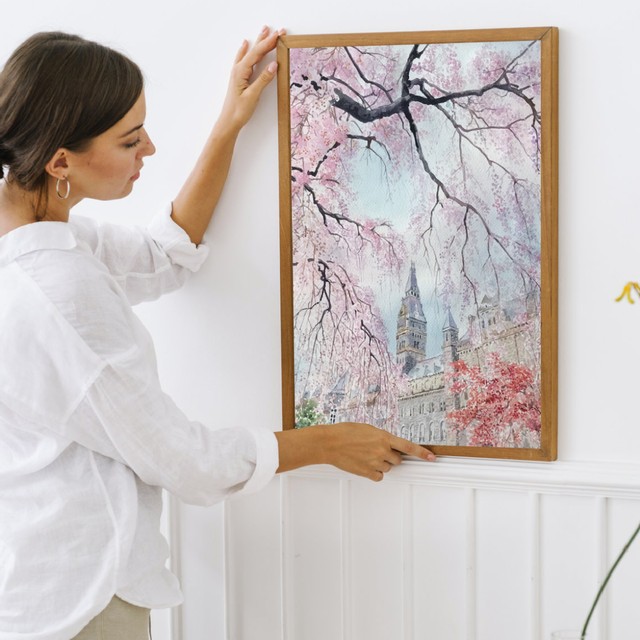 The icing on the cake, the bow on the present, the final score of the symphony–we can think of framing your custom painting as one and the same, the final preparatory step of displaying your masterpiece!
We've written this guide to answer your questions and help you determine just how to frame your painting in style.
The Importance of Framing Right
Finding the appropriate frame for your artwork will elevate the piece and add a new dimension. The proper frame should complement the style and subject matter of the piece itself as well as the area it's displayed.

Gallery-style gold-framed Paintru Alfred Sisley custom reproductions
One should take into account the frame size and type, color, the wall it is mounted to, and the surrounding lighting. With all these elements to consider, framing can be intimidating. We have put together a complete guide to framing that will ensure your masterpiece is displayed tastefully.
At Paintru, you can turn your photo into a custom painting in your choice of oil and watercolor paint mediums. The two types of paintings are equally magical and beautiful, yet framed differently to enhance each medium's natural aesthetic and texture as well as properly preserve the artwork. This will act as a comprehensive guide to framing both.
Oil Stretching and Framing
All Paintru, all oil paintings are hand-painted starting with a blank textile canvas that is affixed to the artist's easel, most often with tape. When the painting is complete, it is dried for several days then rolled into a tube en-route for our warehouse, much as you would roll a poster or dart of fabric. The canvas is then stretched across wooden stretcher bars to achieve the look of a finished painting.

Oil paintings arrive at Paintru from the artists as rolled canvas.
When purchasing an oil painting from Paintru, you can choose for your piece to be either stretched or rolled. We offer custom framing which can be selected when reviewing your piece with the Paintru concierge.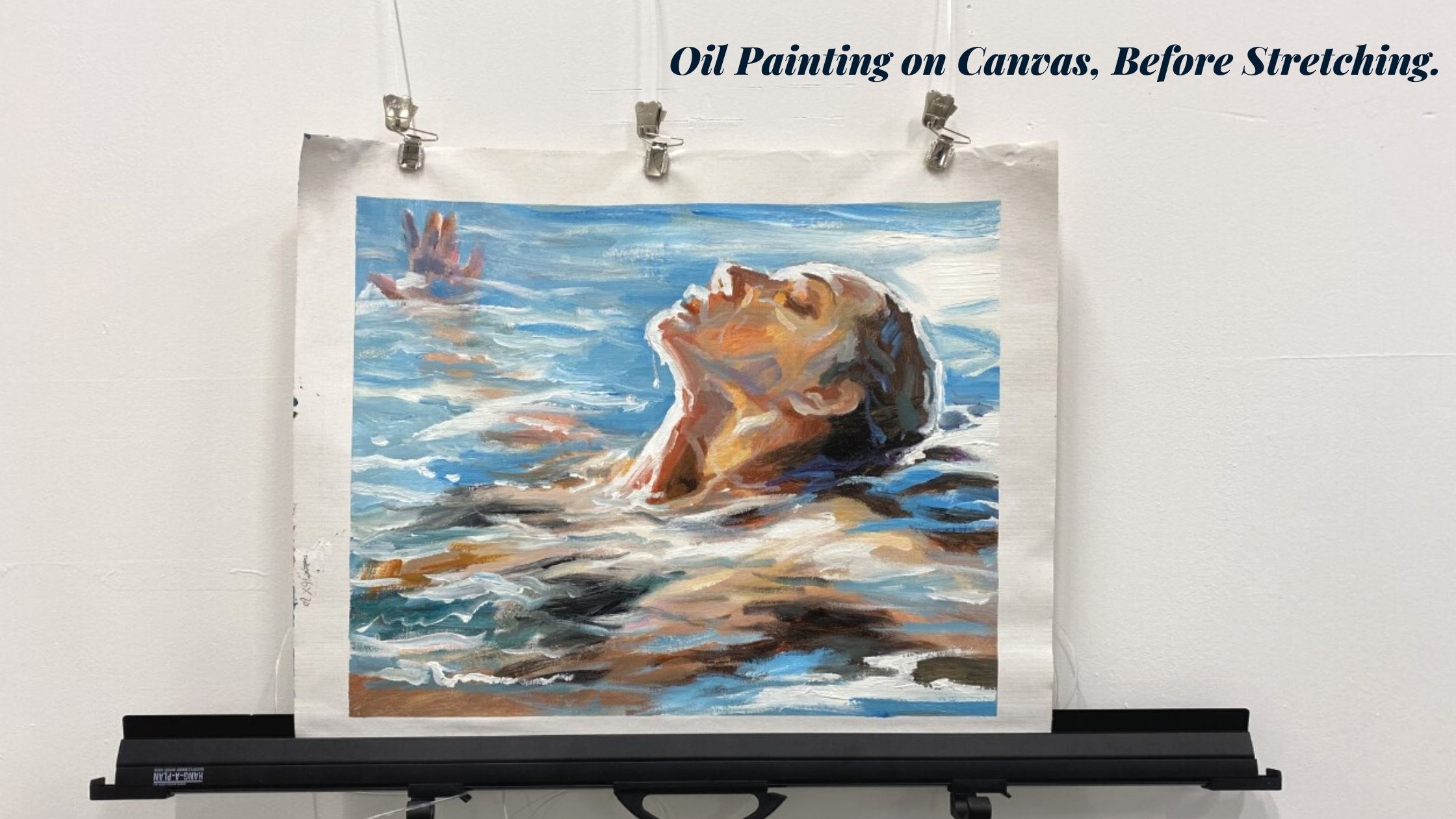 One of the most impressive and magnificent things about oil paintings is the rich texture they display. Oil and acrylic paintings should be left uncovered as they release gases as they cure and need to breathe. Leaving the painting uncovered also allows you to fully experience the magic of the hand-painted artwork.
And yes, we do understand it is tempting to reach out and feel the abundant texture of your masterpiece, but please withhold from doing so as over time it can affect the oil!
Learn more about keeping your custom oil painting in pristine condition >
Traditional Picture Frames versus Floater Frames
Choosing between a floater frame and a traditional frame is important and can be dependent upon the type of artwork you are framing.
Gallery Frames For Oil Paintings
Traditional, or gallery, frames have a lip that holds the art piece itself, the glass and mats, mounting the piece from behind. This method of framing does compromise the border of the piece so it is important to consider that when selecting a traditional frame.

This custom oil landscape is shown in a decorative gold gallery frame
This type of framing option is often used with heavier, more decorative frames, and when framing pieces that may have uneven paint around the edge of the canvas wrap.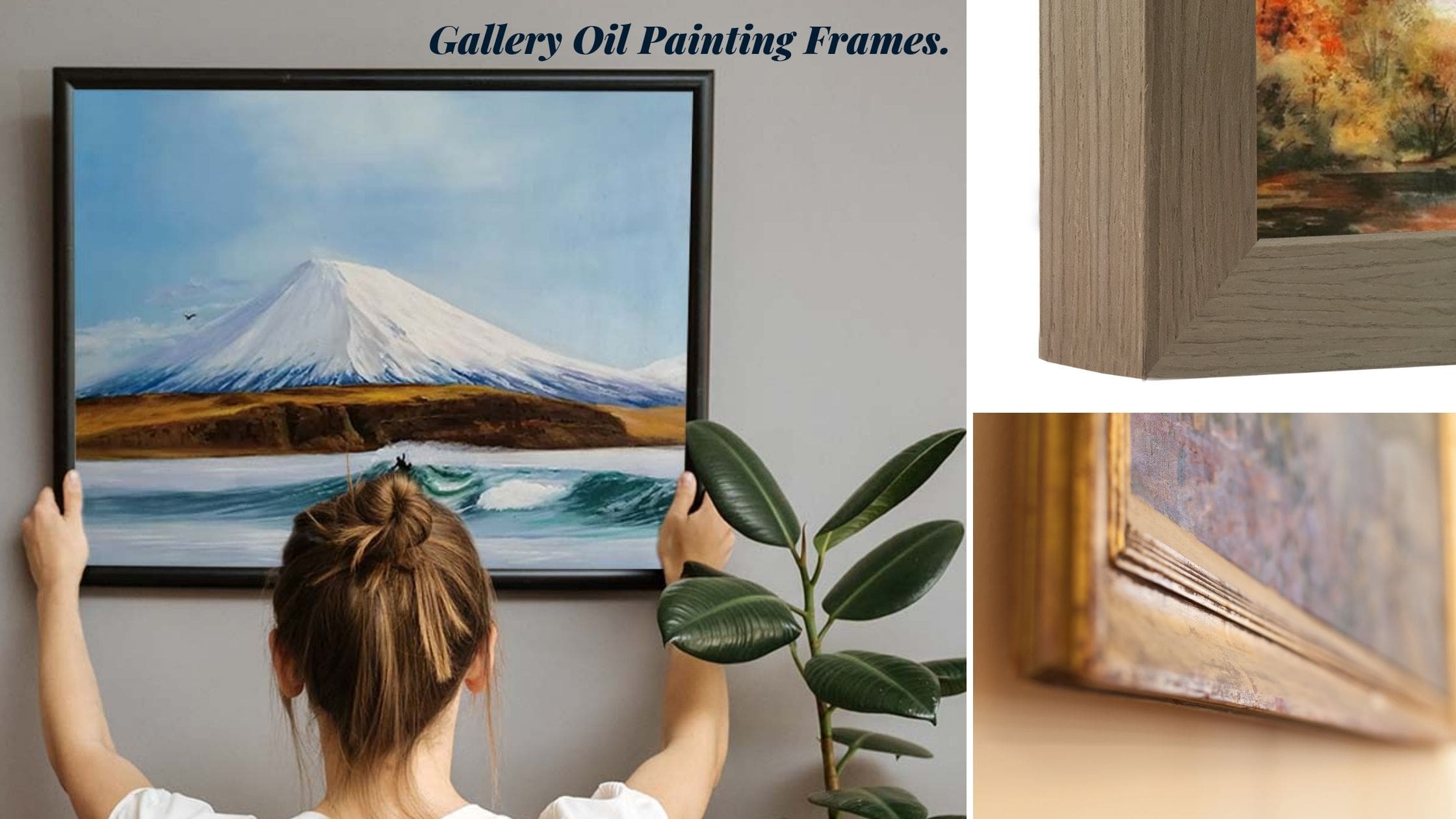 Float Frames For Oil Paintings
Float frames are mounted from the front and display the entirety of the artwork. This gives the allusion that the art is floating along the edges of the frame. This is an excellent option for thick canvas pieces. We also suggest floater frames are great options for pieces you want to have only a thin frame holding the piece of artwork, and/or for a modern look.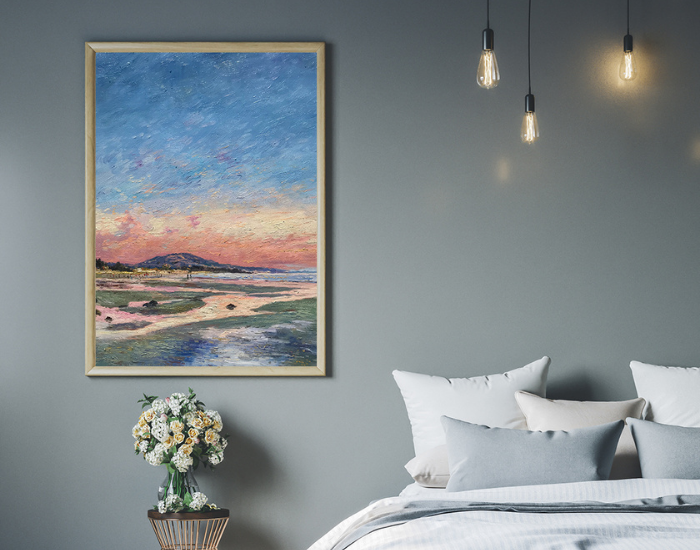 Here is a helpful visual and explanation of a floater frame.
Going Frameless
Artwork on canvas stretched over wood stretcher bars will look stunning whether they are framed or left unframed.

This customer opted to display their custom oil portrait frameless.
Usually, for oil or acrylic paintings, the edges of the painting must be considered as they will be visible. Leaving your piece unframed is another great option if you don't want the edges to be compromised. And, it creates a casual yet artistic vibe that lets the painting do all the talking.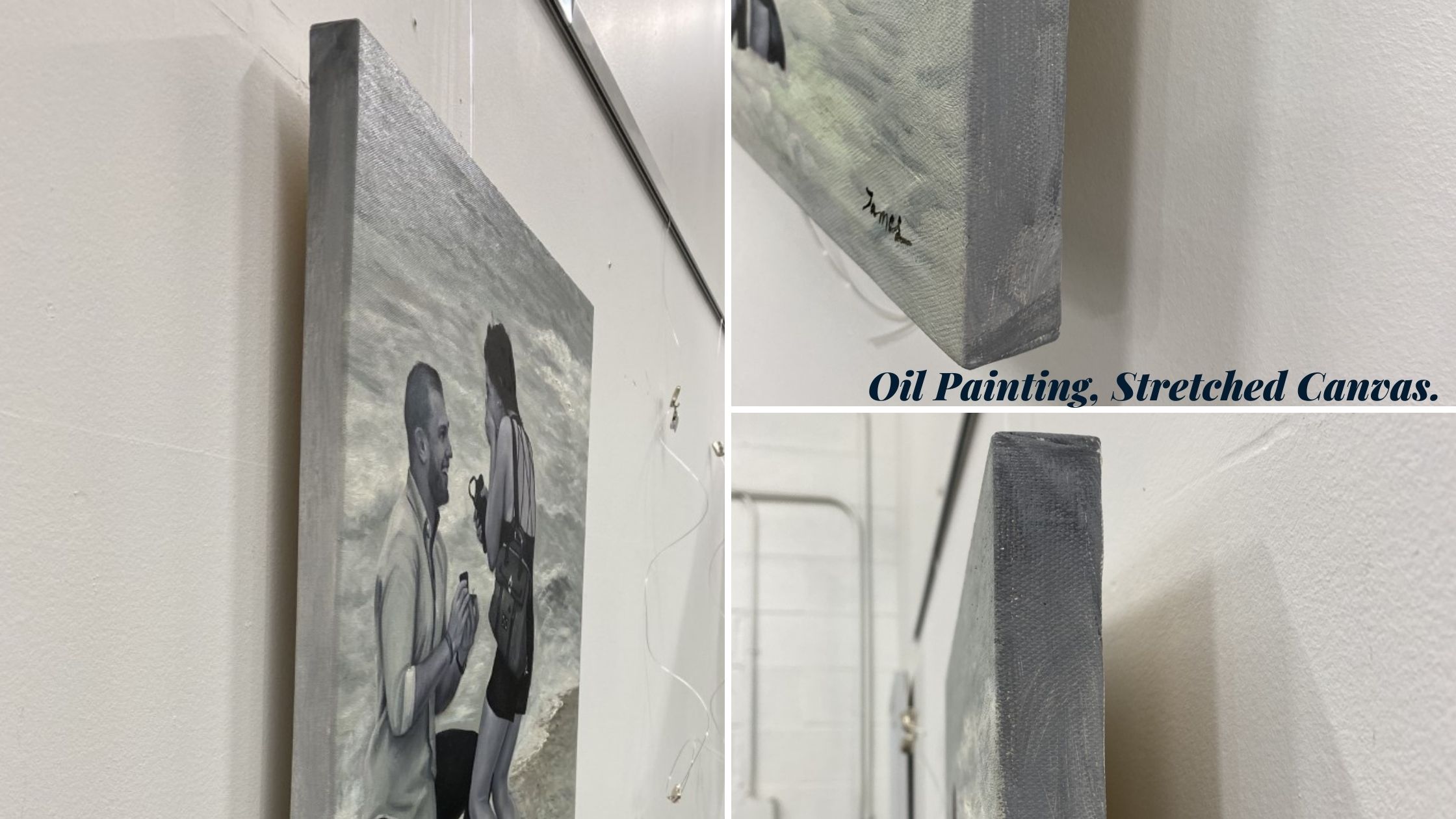 Stretched canvas is also an excellent choice if you're unsure of where exactly to display your painting as unframed pieces fit nicely into a variety of spaces.
Watercolor Frames
The key difference when framing an oil painting versus a watercolor painting is that watercolor pieces require protection. All Paintru custom watercolor paintings are hand-painted on paper which can naturally absorb water and oils, and thus a more delicate material.

Custom watercolor painting matted and framed in a brown-grain wooden frame.
Our watercolor painting frames include acid-free backing and an acrylic pane. It is important to preserve your artwork by protecting it from all moisture and oils and our frames do just that!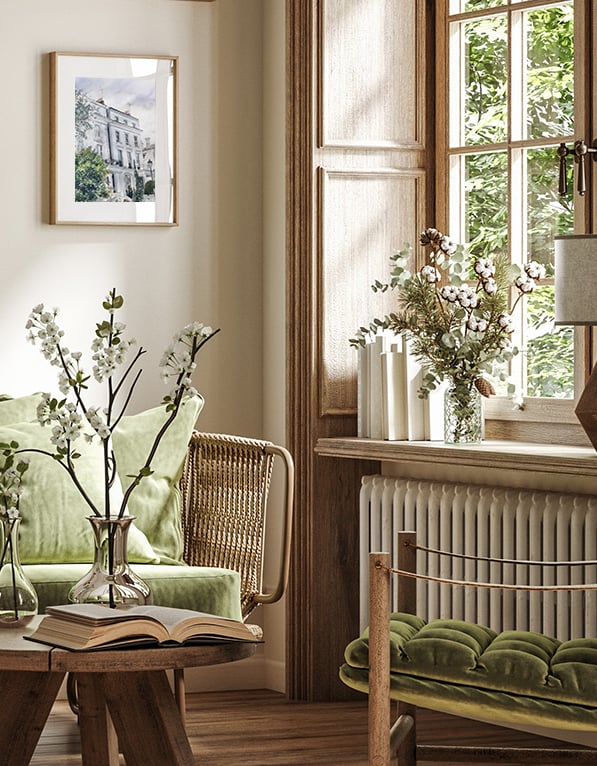 11x14" landscape & still life watercolors are now just $110 rolled and $145 framed! Create yours >
Frame Color
The color of your frame should elevate the artwork and harmoniously unify the piece with its surrounding. The color of the frame should compliment both the piece and its environment and never distract from the art. The best way to do this is to match the frame to the interiors with a color that blends in effortlessly with the artwork itself. Proper framing can even be used as a tool to tie artwork into a room that has a different aesthetic.
Tip: We love getting watercolor and oil painting framing ideas from browsing gallery walls.

Gallery wall showcasing a variety of frame colors.
Watercolor recommendation – most watercolors achieve a light and bright feel and are almost always well-paired with a white or natural wood frame. Additionally, we do offer black watercolor frames, which can be used to integrate the artwork into darker interiors or achieve greater contrast.
Paintru frame options [callout]
Another popular and sophisticated framing option for watercolor paintings is a glass float frame. These frames elegantly suspend the artwork within the glass displaying a beautiful floating effect.

An elegant option for watercolors is a floating glass frame where the artwork is pressed between two panes of glass.
When in doubt, white or natural white wood are both great options for those who are still unsure on which frame to choose. This is also a great option for someone giving a gift and wanting something more versatile for the recipient.
Framing with Paintru
At Paintru we offer beautiful custom frames to compliment every size of oil and watercolor painting.
Framing with Paintru guarantees your artwork will receive the frame that best compliments it and it is cost-efficient with customers saving an average of 35% through our services.
Most importantly your piece will arrive fully ready to display or gift.

Custom Paintru watercolor commission of Georgetown University campus, framed with an unmatted natural wood frame.
Framing is an important final touch for presenting your masterpiece. Paintru concierge is here to help and can answer all questions when selecting how to perfectly frame your artwork.