Interior Design Trends 2021–From Rich Pantones to Natural Touches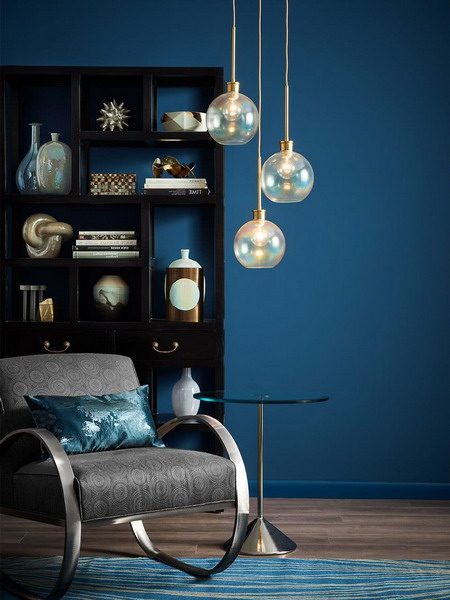 It's been a long year, with the majority of us spending more time at home than ever before. For many of us, our home has been a sanctuary, thus more emphasis on making it a space that creates comfort, creativity, and continued inspiration.
We're sharing the inside scoop on interior design trends 2021 to give you a bit of creative inspiration as you continue to make your space your own.

When creating a space with such significance and impact on our lives, find guidance within your individuality, uniqueness and tastes. If you, like us, are inspired by beautiful things, like innovative ideas and are ready for them – welcome 2021.
We asked expert interior designer (and Paintru founding family) Mrs. Christine Kameen for their insight to help inspire your home this new year.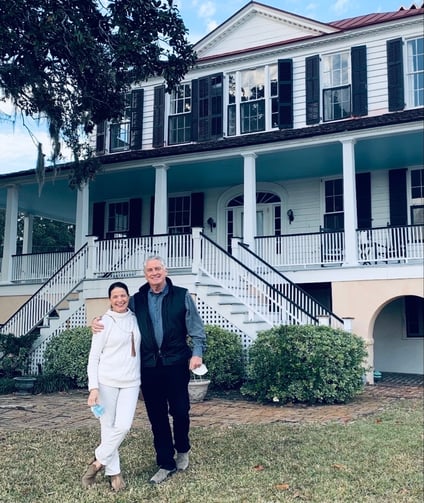 1. Rich dark navy Pantones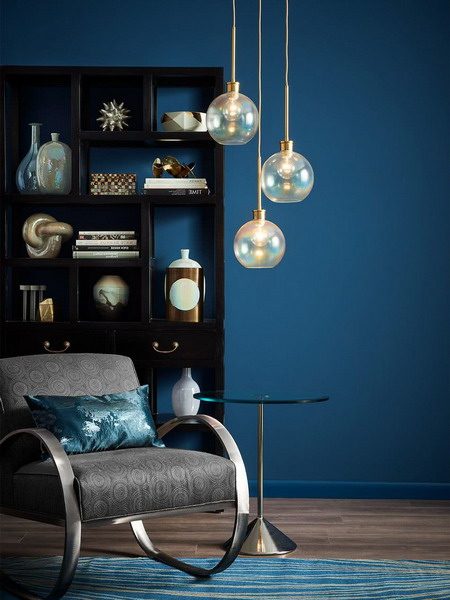 Dark blue color schemes, like rich navy blue, are going to be seen as a prominent 2021 interior design trend. Considered "the new black proper" for an elegant and contemporary vibe, this color palette is elegant, modern and sophisticated.
These darker blue shades blend beautifully with white and gray palettes and brass fittings to create warm contrast that emphasizes harmonious stylistic unity.

"Use bold navy and dark blue wall colors for open spaces such as the living room. This is a great way to set a color scheme, accent the design of the interior, and create a specific mood when your guest walk through," says Kameen.
2. Light natural woods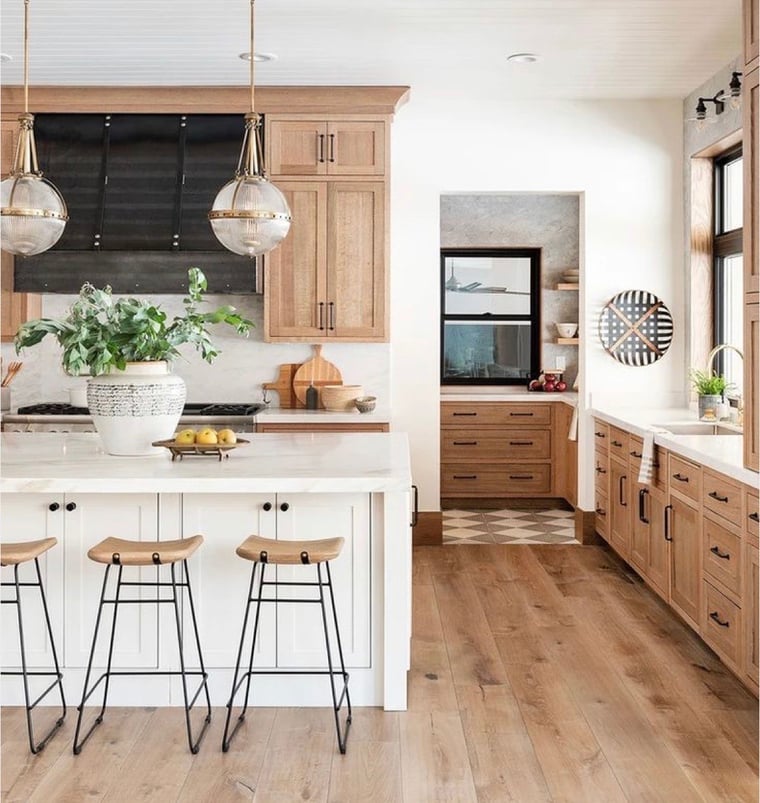 We've seen a wide variety of woods over the years–from dark cherry to mahogany, and in recent years grey-tone neutrals.
Light woods are a forecasted 2021 interior design trend that will be used not only for flooring, but also cabinetry, walls, ceilings and as a natural accent with a tactile design.
In 2021 natural and raw materials continue to be popular in interior design for apartments, houses, as well as public spaces. A lamp stand in the form of a solid wooden slice or an unprocessed stump looks organically in the interior of a room decorated with wood, the raw color and aesthetic will be a highlight for any room.
3. Standout statements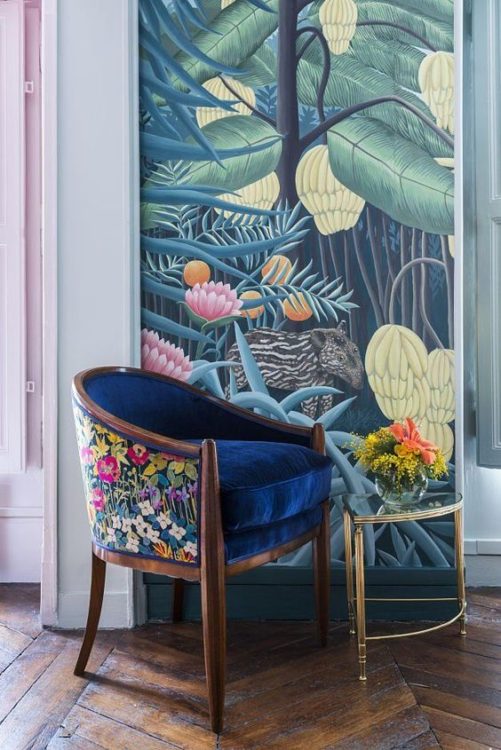 "People are going to continue investing in their homes by sourcing new stand out furniture, art, and textiles to amp up the quality of their indoor spaces," says Kameen.
Statement pieces are increasing in popularity and will elevate any space for a more eye-catching, luxurious, minimalist look.
Clear spaces are becoming more desirable for decor enthusiasts. Interior designers are dared to create pieces with unique, unusual shapes and new materials.
Interior design tip: Choose a focal point for your statement piece.

There are certain pieces that are more secondary (where your eyes veer toward after viewing the standout piece) like an end table, mirror, or nightstand and it's a supporting element. If you're looking for your statement piece to really up the wow factor make sure it's a main part of the room–i.e. a sofa, bed, etc. To achieve a unique look mix, organic with geometric, dark with light, and busy with simple.
4. Sustainability and conscience
No doubt a trend on the rise, new bioplastics, reused materials and low impact for the environment, are trending. Turning to materials, furniture, and accessories with a luxury touch, not to mention also handcrafted and made from purer biodegradable materials.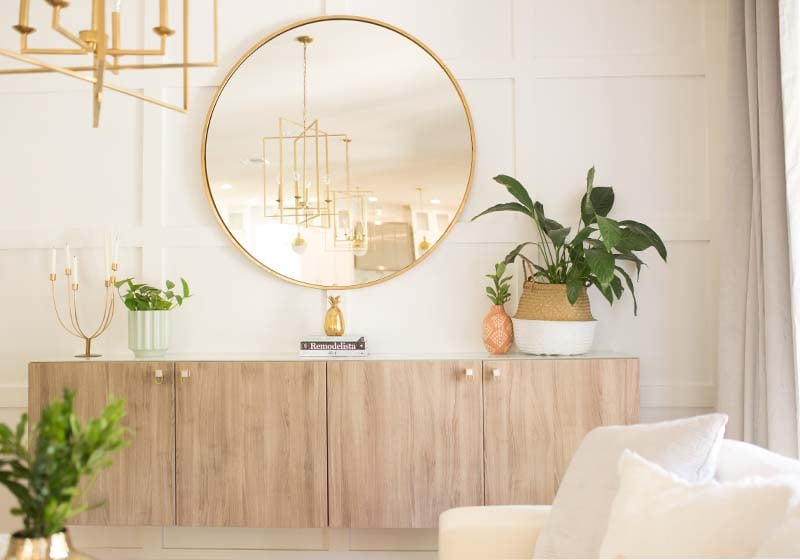 Particularly popular this season are unpainted wood surfaces, stone textures, living plants, ceramics, bar carts, gold circle mirrors, and wicker furniture.
"Multi-functional furniture are trending in the new year especially for smaller homes or apartments"
4. Nature to nurture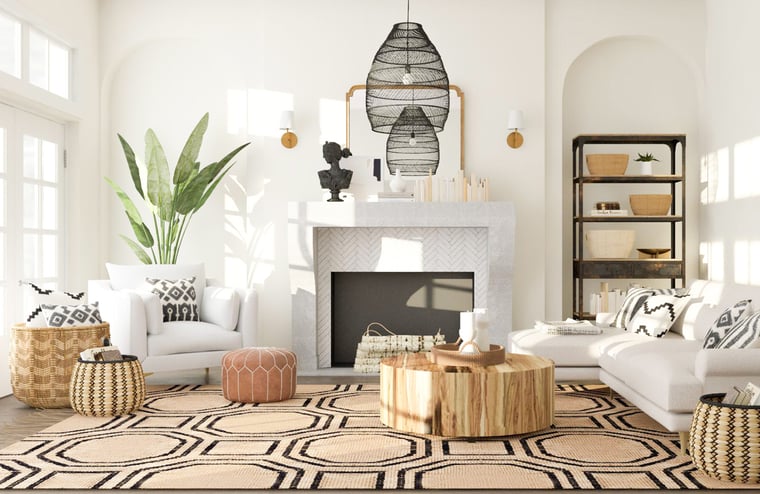 A interior decor trend that strengthens the human-nature connection by creating mixed interiors with nature and bringing the life to our homes.
"If you want a calming airy aesthetic in your home try adding more natural elements and textiles."
You may not have these houseplants yet...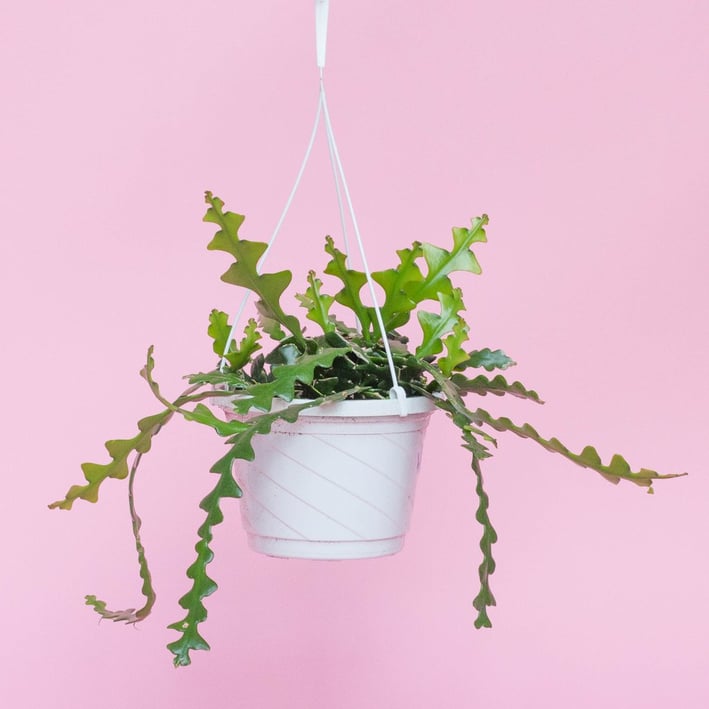 One of the best houseplants for 2021 that you may not even have heard of is the fishbone cactus. It's a perfect way to add a sustainable and minimal look that is a unique refresh for the upcoming new year. This unique plant is super easy to care for and will liven up a room with a hint of the outdoors to your interior decor. Plus, having houseplants around helps purifier the air and in turn benefits your health.
5. Neutral color schemes continue reign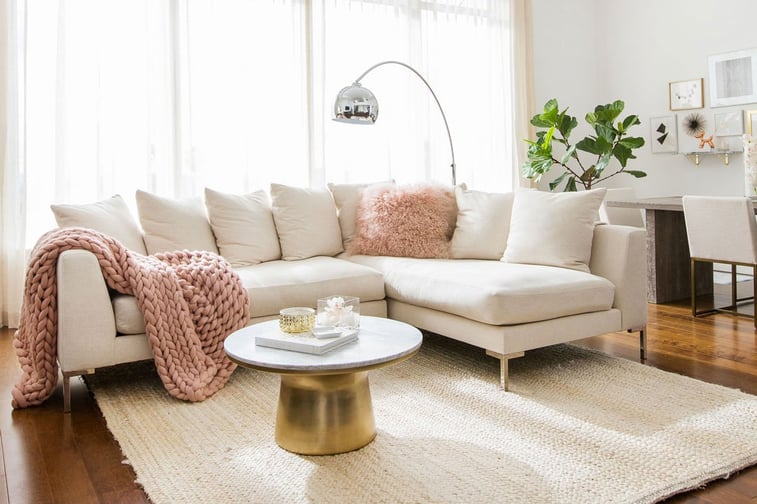 Neutral color schemes are i
deal for creating more intimate and welcoming environments. When creating an interior or exterior neutral color scheme, the successful combination of colors is actually more important than the individual colors you select. And the key to any workable color scheme is ensuring the proper balance among the components.
Have a decor enthusiast in your life?
We have the perfect interior decor gift guide that will make their holiday season.
6. Galleries, on display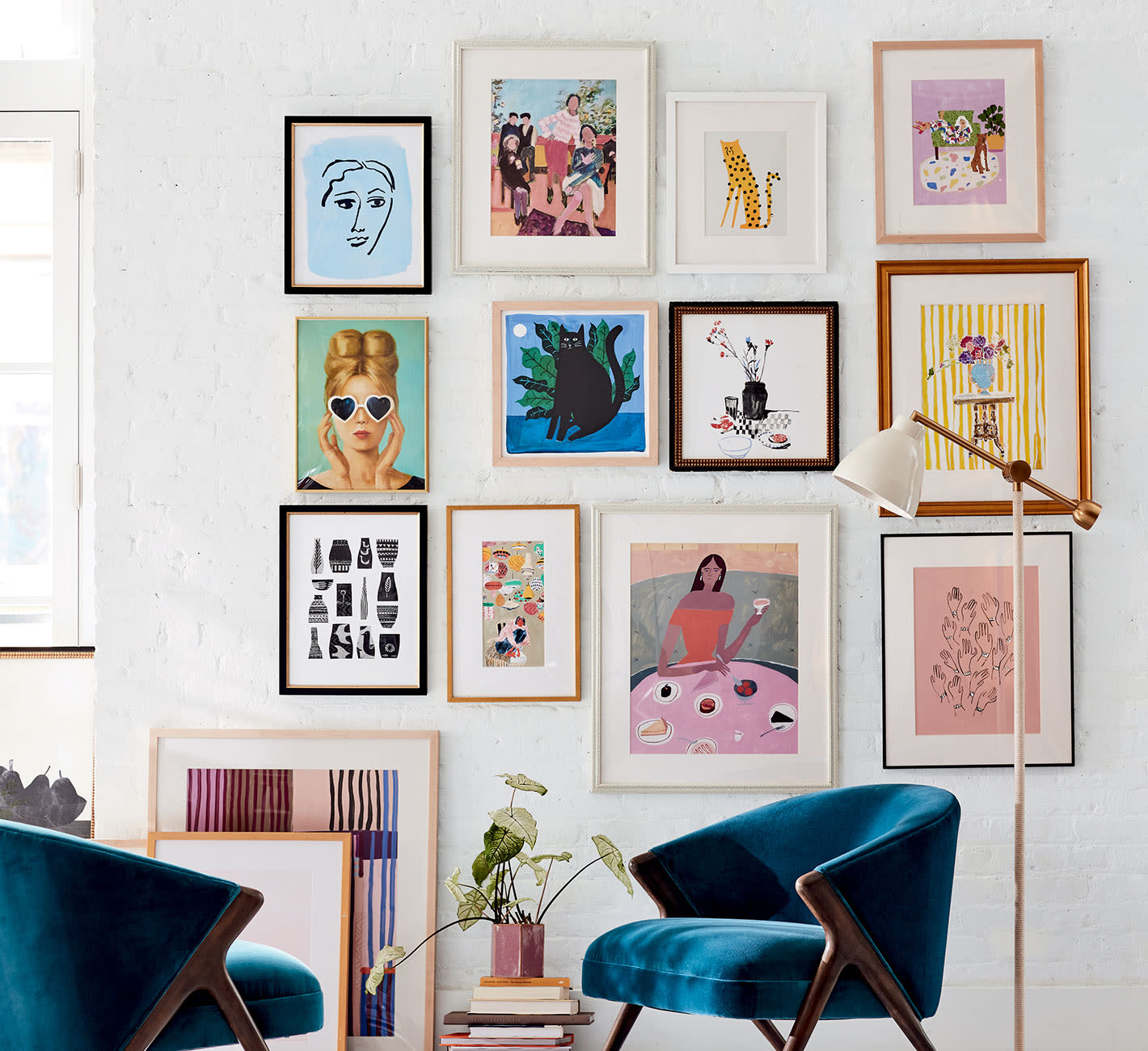 An interior design trend that has been popular for years, gallery walls. 2021 will be all about 3D design, geometric shapes, custom illustrations, and nature inspired designs.
Graphic art is a buzzing trend, especially among the millennial generation.
Are you looking for a little guidance on how to display your artwork at home just like the pros?
Follow our gallery wall guide to help you build a professional, yet personalized gallery wall filled with a vibrant mix

of paintings, prints, photographs and other artwork at home.
Placing tip:

Plan it! Sketch a grid of your wall

Lay everything out on the floor, and measure, before you start making all those holes. Then, you can play around with the art placement without damaging your wall. Try and keep space between all your pieces at least 3 inches apart. That way things don't get crowded.

7. Modern eclectic is a vibe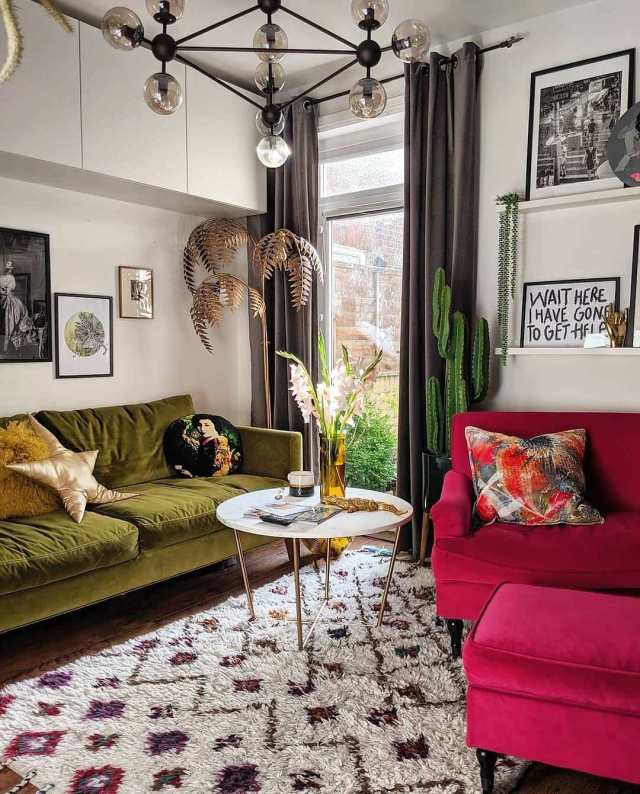 "Making things personal and comfortable but still chic."
Modern eclectic, a blend between classic and new. This style promotes comfort with a touch of contemporary. A new interpretation of classical times. Have an open space? This theme is great for multi-purpose environments.

---
Are you a home decor addict?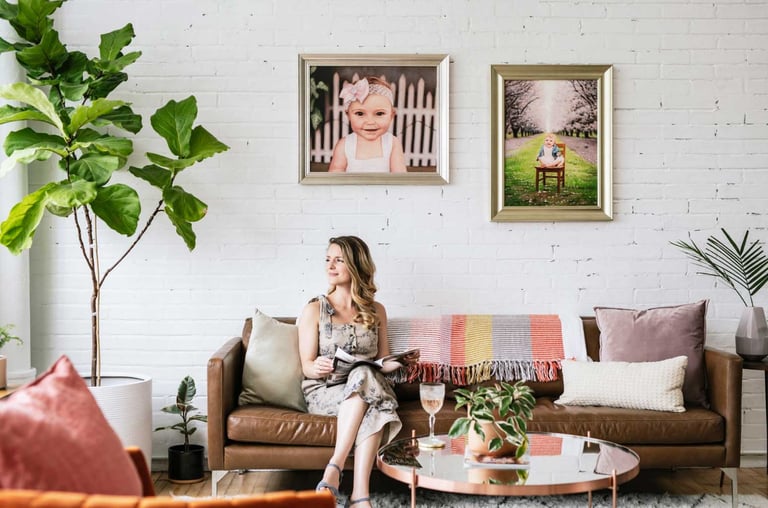 Jumpstart your inspiration with a hand-painted artwork. We deliver customized paintings right to your doorstep.
Upload your favorite photo and start decorating your indoor decor today >