5 Wedding Painting Ideas to Bring A Slice of Magic to The Everyday

Liza Kameen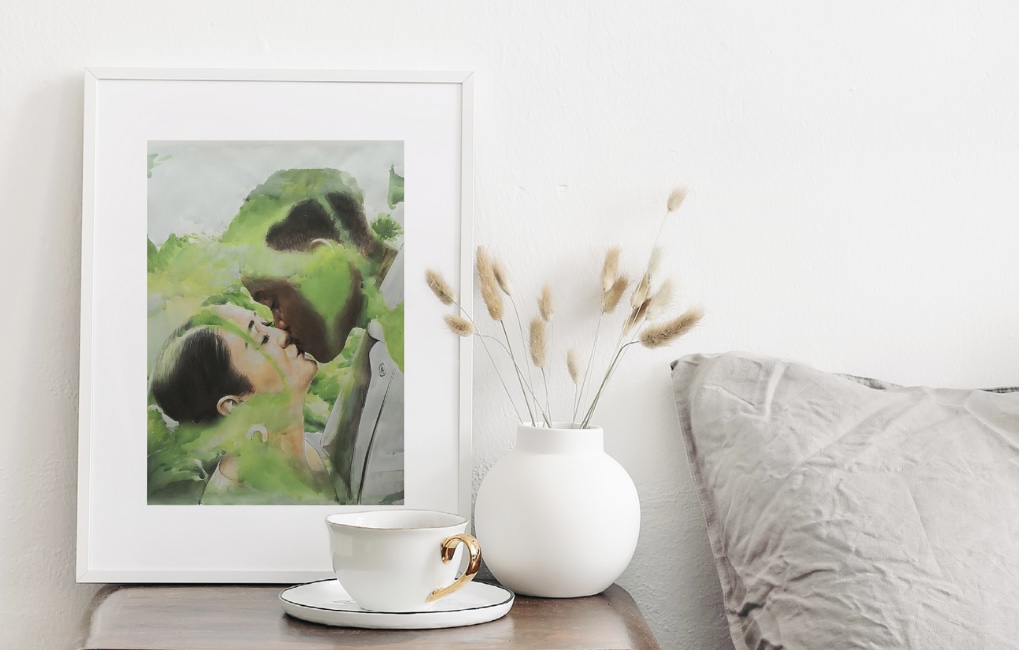 Whatever style of wedding you have chosen, you will no doubt be thinking carefully about how the day will look to your guests. The color scheme, flowers, vistas, architecture, and outfits will all play a part in the visual menagerie of your Big Day.
With 2021 being set to be one of the busiest years for weddings after social restrictions ease, couples are taking aesthetics seriously - because nobody wants their own nuptials to blend in with the crowd.
But what happens after your wedding is over? Is all that creativity and hard work to go to waste? Not if Paintru has anything to do with it! We want the beauty of your wedding to be a part of your life forever, which is why we have come up with some tips for how to keep a slice of wedding magic in your home for years to come by turning your wedding photos into beautiful paintings.
Have a browse of our wedding painting ideas and unleash those celebratory, champagne-tinged juices!
Wedding Landscapes (Some of Our Favorite Pieces!)
Couples put so much time and effort into choosing the perfect wedding venue and location, often shelling out astronomical sums to secure the perfect backdrop. Perhaps you have chosen the allure of a scenic coastline, a beautiful garden, or heart-stopping architecture - either way, it's a shame to let your perfect matrimonial backdrop exist only in memory.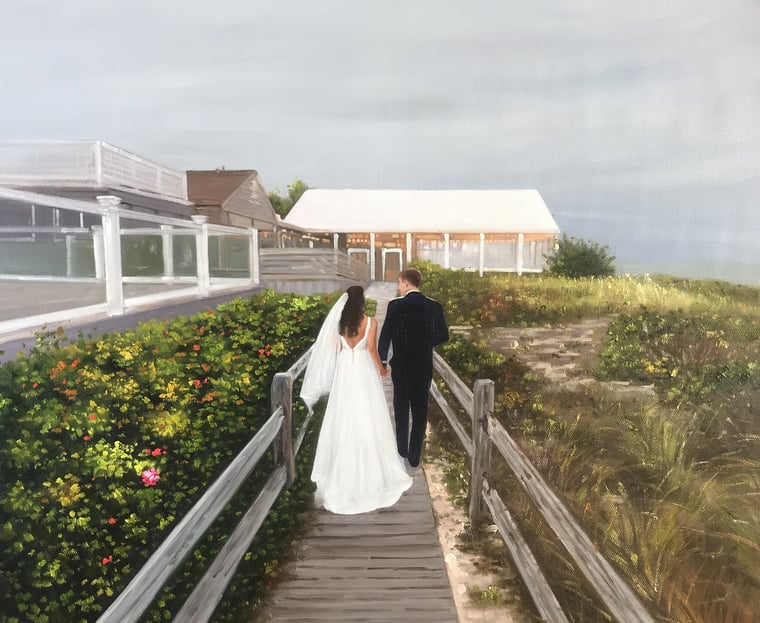 A Paintru Commissioned Wedding Landscape
Wedding landscapes and architectural paintings are a great choice for couples with a penchant for interior design. A wedding painting that features or focuses upon the backdrop of your wedding can be created in a variety of artistic styles, enhancing an existing home color palette or scheme.
Wedding landscape paintings are the perfect pieces of wedding artwork for those who wish to incorporate a subtle and tasteful memento of their wedding day into their homes - a beautiful reminder of cherished moments.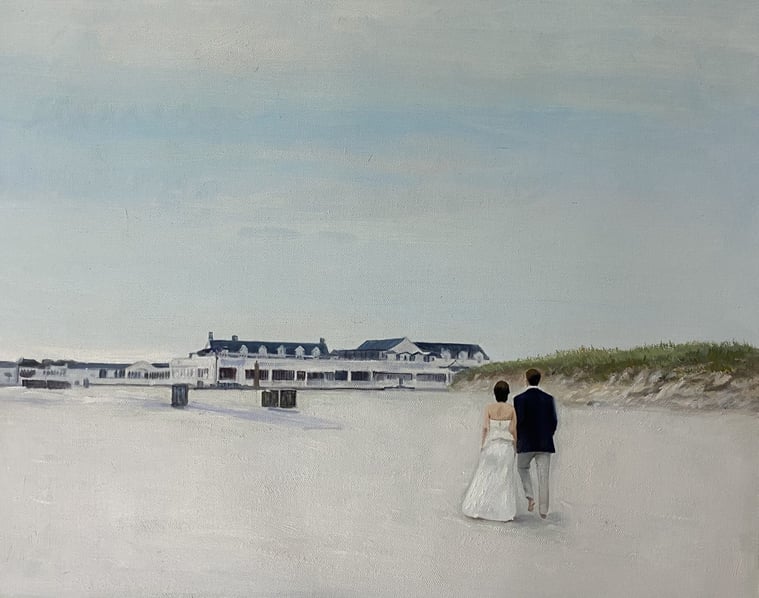 A Paintru Commissioned Wedding Landscape
Wear It Forever
The dress. The tux. The bikini. The lounge suit. Whatever you choose to wear at your wedding, a good amount of thought and planning goes into it. We all know the drill: buy the most expensive outfit you've ever purchased; wear it for one, magical day; zip it up safely in a suit carrier to never see it again.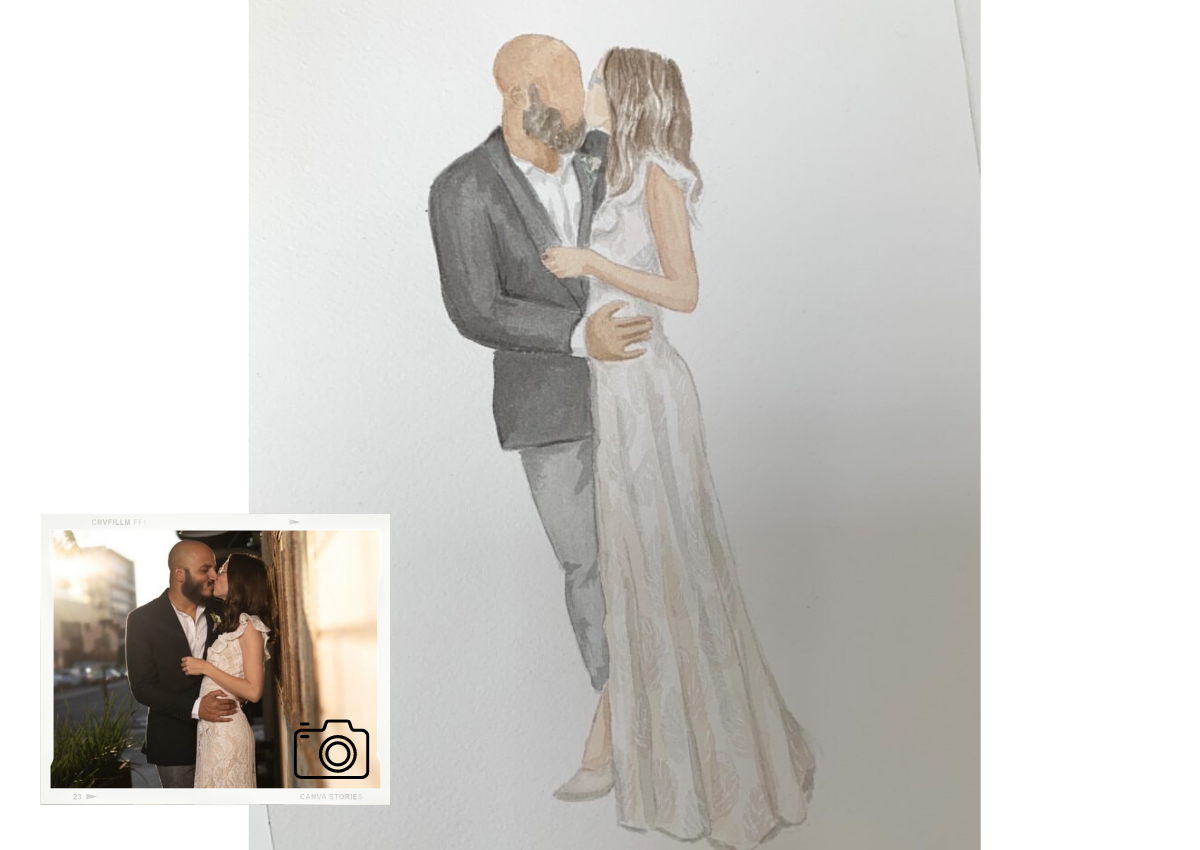 Fashion Illustration-Style Wedding Commission by Paintru Featured Artist Annie Yuen
But what if you could relive your sartorial success for years to come? Of course, wedding photography goes some way to preserving these memories, as wedding photographer Sam from yourperfectweddingphotographer.com points out:

"Wedding photography is important because it will capture your day, it will capture your memories, it will tell a story, and not just any story, it will tell a beautiful story of your special day, a day you will never forget. A story that you can show friends and family, your kids, and grandchildren, something you will have and can treasure forever."
He goes on to list the wedding 'perishables':
"You see your flowers will wilt, your cake will quickly be eaten, your invites will be binned after the day, your dress shall be worn once, those shoes shall go back into their box, this isn't me trying to be glum and miserable, this is about perspective, this is about helping you focus your budget on things that you may not put importance on, such as wedding photography."
Paintru loves wedding photography (of course - our custom wedding artwork is based on incredible wedding photographs!), but we would encourage couples to consider going a step further in their quest to create magical memories.
Why not treasure the transient details of the day creatively?
For example, a fashion illustration of your dress or suit would be a stylish addition to a walk-in closet or bedroom. Likewise, wedding shoes - also destined for a lifetime in a box - could be transformed into a piece of high-design art.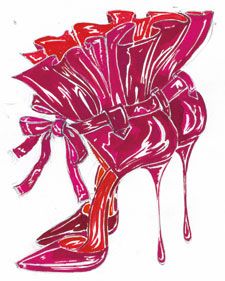 A Manolo Blahnik Sketch
The Bouquet
Similar to commissioning a fashion illustration of your wedding outfit, Paintru loves the idea of preserving your bouquet through fine art. Our collective of world-class artists will bring your floral designs to life with any painting style you choose.
Again, view this as an opportunity to tap into the interiors of your home. A bright bouquet would make a good statement piece - especially if you opt for a painterly or cubist style. Think about contrasting neutral rooms with bright and bold color palettes.
Many of our customers have noted how well custom paintings of wedding florals fit in bathrooms and boudoirs.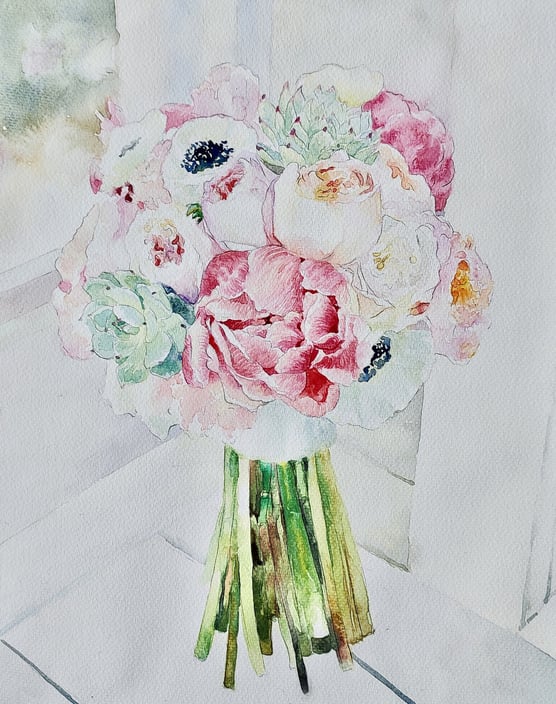 The Perfect Wedding Bouquet, Hand-Painted To Bloom Forever

A painting of a bouquet always makes a fabulous, original wedding painting gift.
Flowers are so universally likable that personal tastes will not be a concern. If you do consider a floral commission as a wedding gift, get in touch with the Paintru team to discuss stylistic options.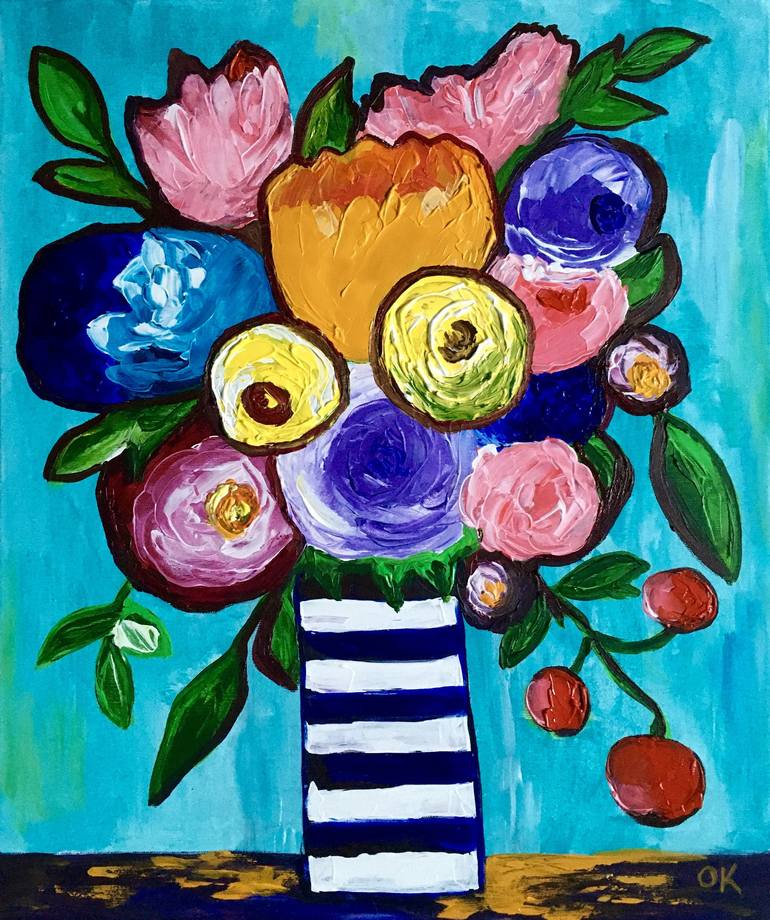 'Bouquet of Abstract', Saatchi Art


A Wedding Portrait Painting
Most couples hope for at least one image that captures the intimacy and happiness of their wedding day. Increasingly, people are seeking more elevated, special ways, on top of a photograph, to capture their special moment.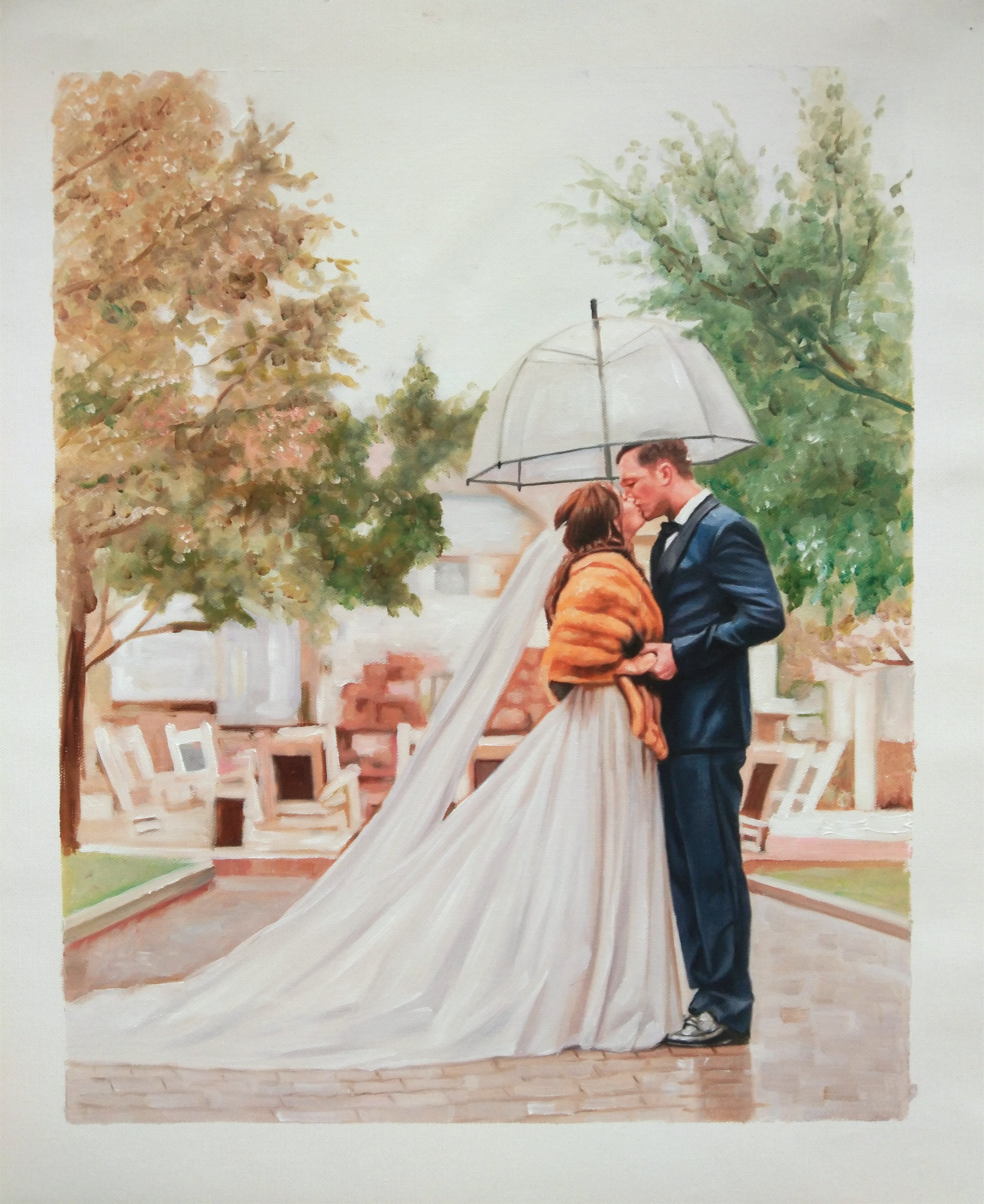 A Paintru Wedding Commission
Live wedding painters are growing in popularity as interest in custom, hand-painted wedding art grows. It's easy to see why couples are opting for turning wedding scenery into paintings, over just photographs: there is a certain, heightened permanence in hanging a custom canvas on your wall.
However, live wedding painters can be both costly and logistically difficult.
Having a painting commissioned from a favorite wedding photograph gives couples the freedom to think carefully about the moment they want portrayed, as well as saving on the cost of hiring a painter for the day.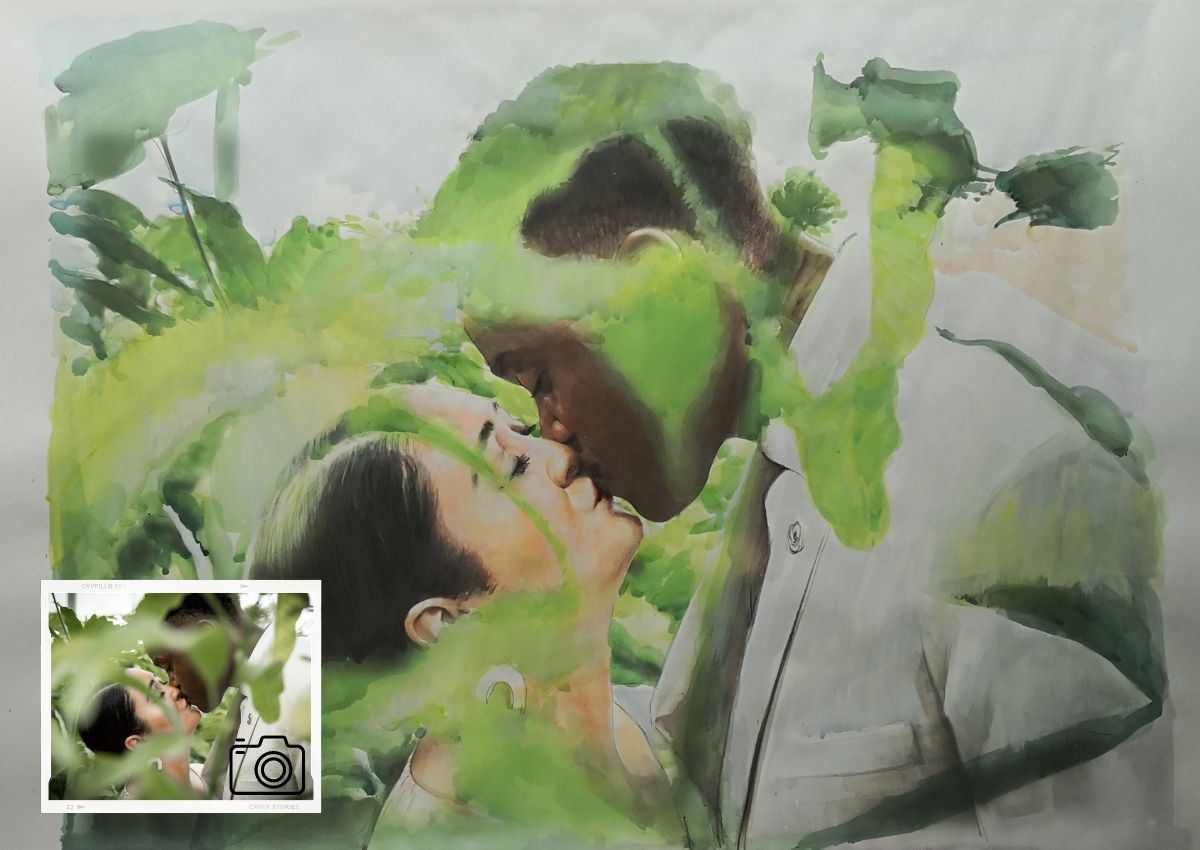 A Romantic Paintru Watercolor Commission
Paintings, especially custom ones, govern a particular, artistic
je ne sais quoi

.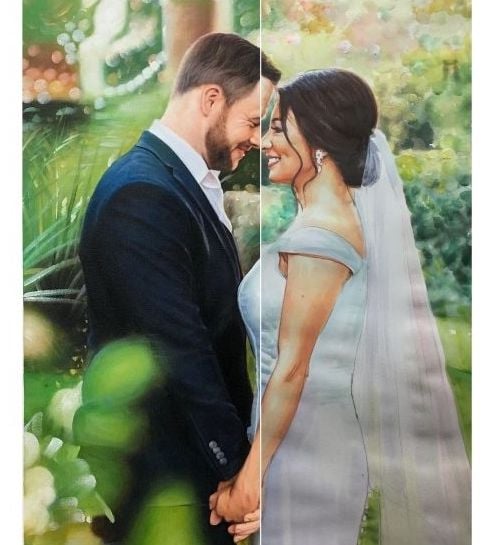 This Wedding Photo Was Hand-Painted In Both Watercolor and Oil
Paintru can take things a step further than live painters when it comes to the realm of wedding painting ideas. When you commission a piece with us, you not only receive a unique painting, but a custom, museum-quality artwork steered by your stylistic direction.
Want your portrait to be painted in the style of Renoir? No problem. How about Monet? That's also fine.
For the more adventurous, we can also create abstract pieces that capture the essence of your Big Day, whilst playing with line, color and shape. This is your chance to commission your wedding the way you want to remember it.
The Paintru team is always delighted to discuss specific artistic ideas and visions. Learn more about how we can make your wedding art dreams come true.