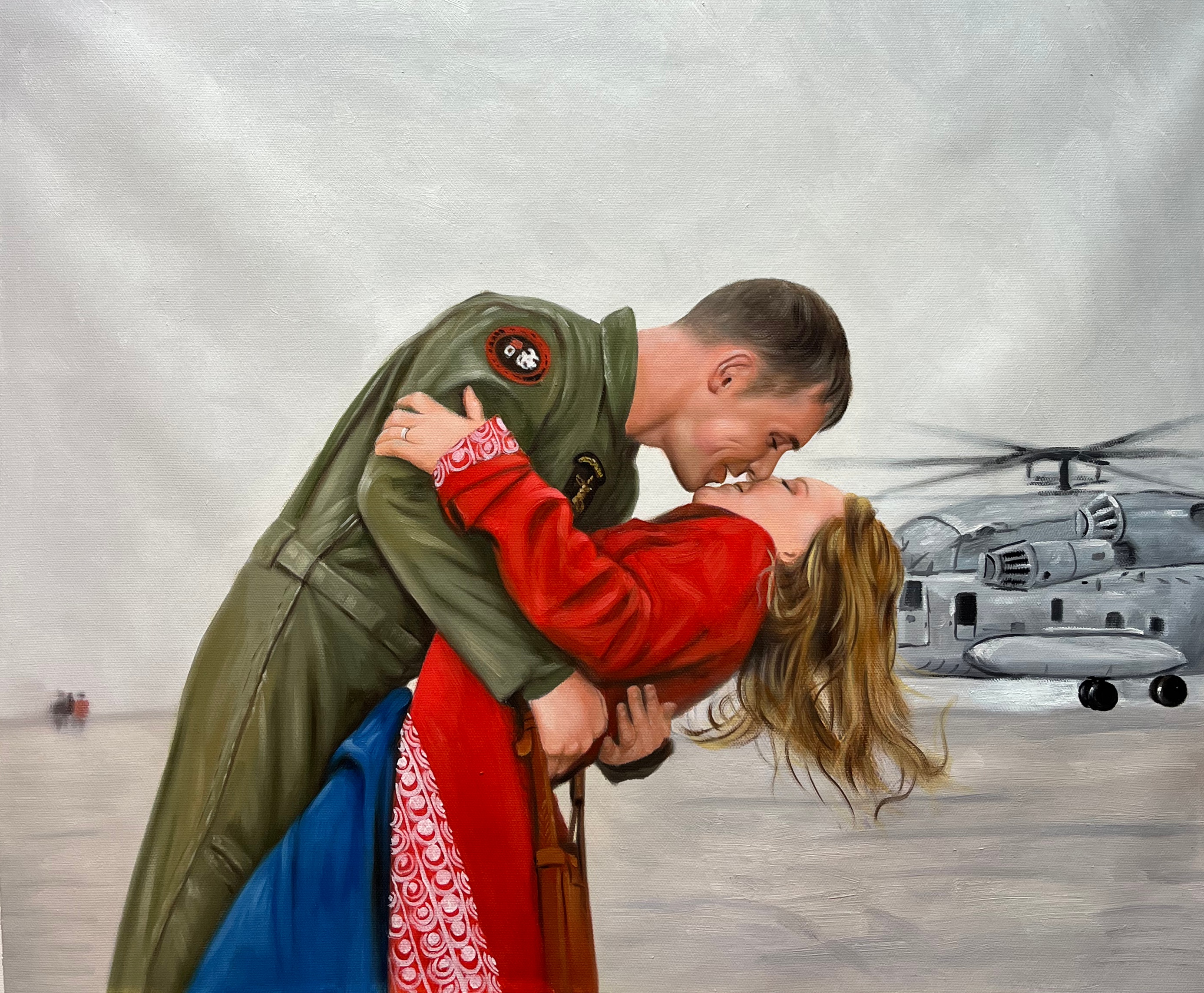 When it comes to military gift-giving, it can be difficult to find the perfect present! Don't worry - we've got you covered! Here at Paintru, we are your one-stop military gift shop!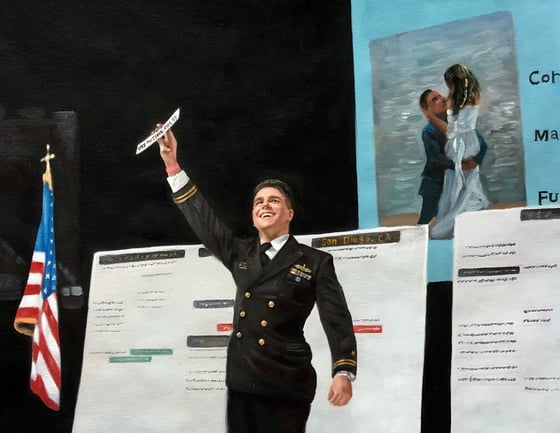 Raise your hand if you can explain this painting!! Do you know what it is? Can you place it?
This #tru2u painting (above) is inspired by "Ship Selection" night at the United States Naval Academy! On this very exciting evening, Firsties (Seniors) walk across the stage and pick their ship!
The point here is – these types of events are incredibly unique to members of the military and their families. Unrecognizable or even indiscernible to the untrained eye! This can make it extremely difficult to find a meaningful gift at such monumental moments. Whether it is the hope at the onset, the celebratory end, or everything in between, we have the perfect gift for you.
Disclaimer: With three USNA-graduate co-founders our blue and gold are shining bright in this collection. We can't help it – it's in our blood! We would love to see some incredible paintings inspired by our brothers and sisters in arms!
Forward March. The start of a military career is clearly declared – an enlistment, a graduation, a commissioning. This important ceremony marks the official beginning of the career that lies ahead. A Paintru painting uniquely captures the pride, hope, and excitement of not only the newly named military member but also the friends and family who have sacrificed and supported them in this endeavor.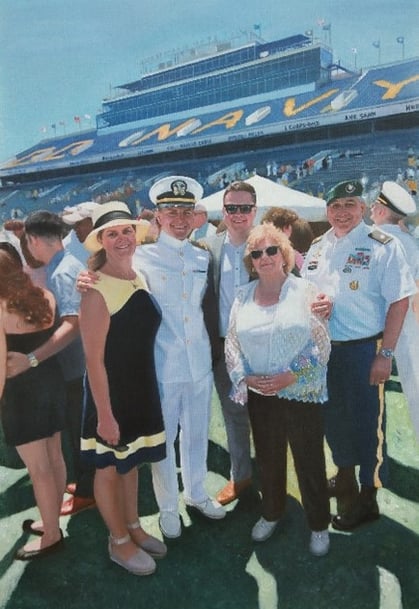 Attention. Over the course of a career, there are plenty of moments to take a pause. A moment at attention, if you will. These moments can be a promotion to a new rank, the awarding of a warfare pin, or the Change of Command. All these moments have the potential of being transformed into lasting memories.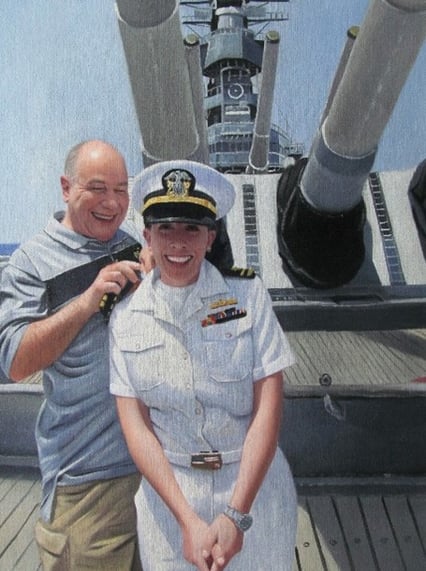 Calling all ships/squadrons/units/messes/wardrooms! Do you have a "go-to" gift for your Hail and Farewell? The "same old" present for a departing Commander? The "usual" mess gift? Do you ask yourself – Can we do better? A Paintru painting is a truly magnificent answer to each and every one of these scenarios. You can even order several at a time to ensure you are always prepared and never scrambling!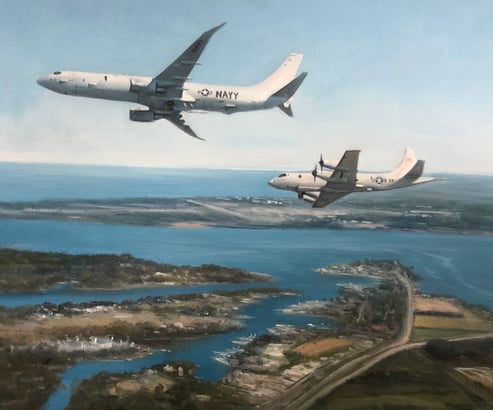 Parade Rest. Amidst the many challenges that service entails, there are also times for fun! There is usually a birthday ball not too far around the corner. This is the perfect opportunity to not only make sure that a formal photo is snapped at the party but to turn that happy moment into a beautiful work of art.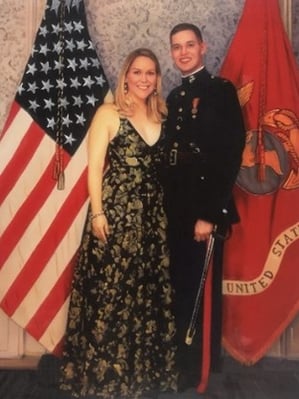 Homecoming. It is hard to describe the emotion surrounding a homecoming! The anticipation felt by those returning and those who wait patiently feels impossible to articulate! Amidst the chaos and the crowd, there are those lucky enough to snag a truly magical photo – a photo that can be transformed into a lasting memory.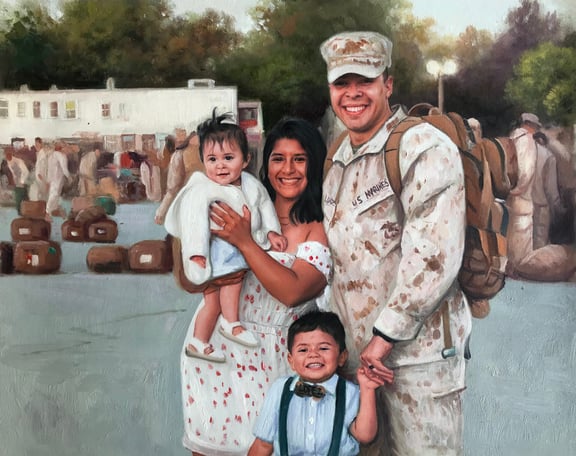 At Ease. At one time or another, everyone that joins the service eventually leaves it. Maybe it was several years of service, perhaps it was a lifetime. No matter the case, this career should be celebrated and remembered. We love these retirement paintings, usually given as gifts, to those who have given so much.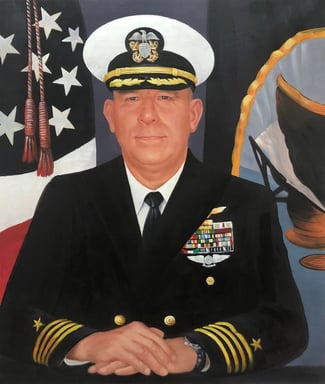 #tru2yourservice. As a veteran-owned company, we can certainly appreciate the niche market that is military-specific gifts. We are so happy to save you the stress and spare you the frustration that typically results at each gift-giving milestone – both personal and professional. So while you or your military loved ones continue to be on the move, know that your one-stop military gift shop is always right here.