The Paintru Custom Art Gift Guide–Memorable Gifts Sure to Impress

Aidan Casey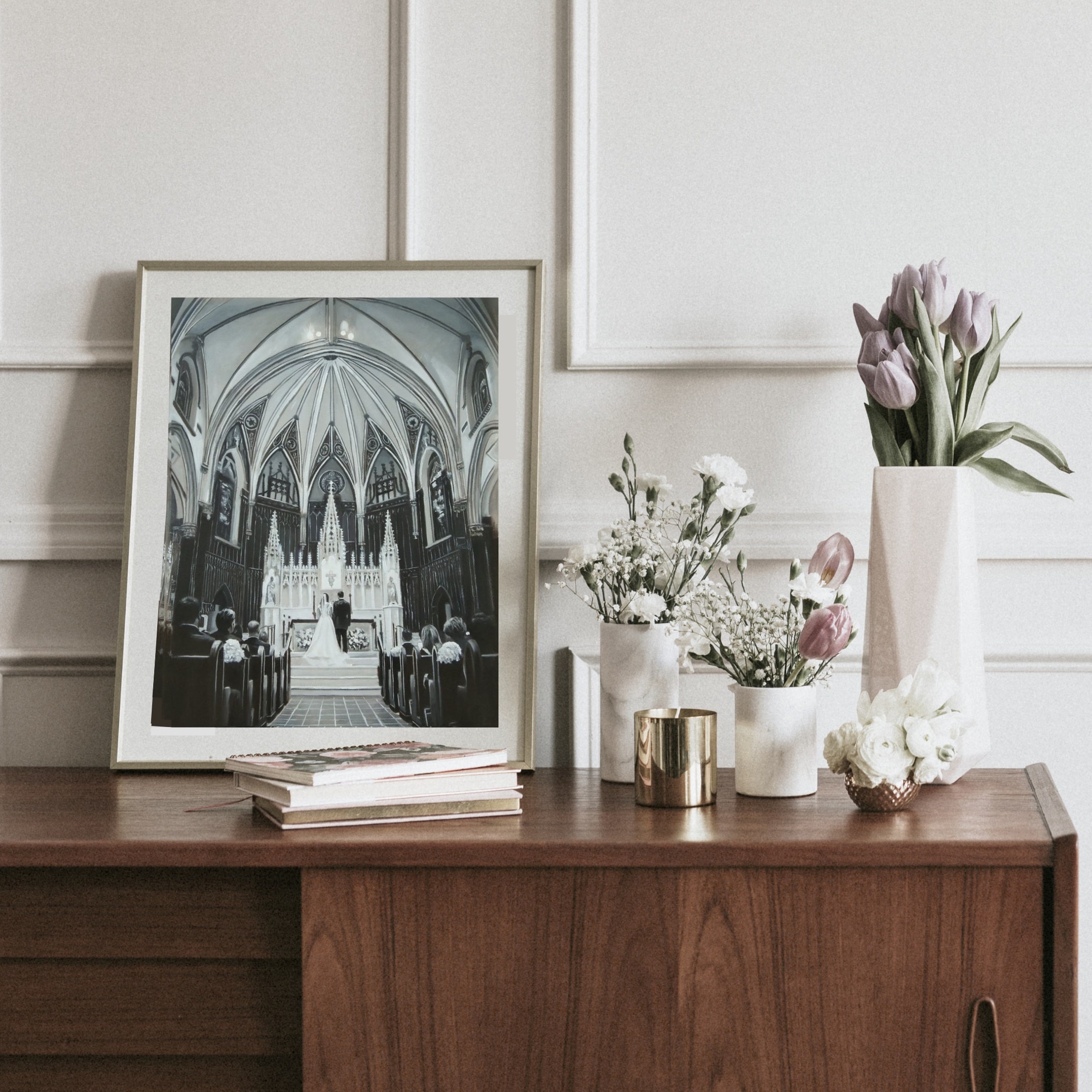 Giving a meaningful and memorable gift can be a trying task, but it doesn't have to be! By turning photos into custom paintings, Paintru makes it simple to discover creative gifts, perfect for everyone on your list and, for every occasion. At Paintru our artists help you create beautiful custom artwork that makes for an incredibly personal and creative gift that will be cherished for a lifetime.
Take a look at our gift guide and get ready to take credit for "The Best Gift Ever!".
A Custom House Portrait
Home is where the heart – and the office, kids, workouts, Zoom parties, dinners in, balcony brunches, and so on, as the pandemic taught us. Our homes are a sacred space, and representative of significant times in our lives. They deserve to be honored through art.
Custom house portrait paintings are beautiful commissions that pay tribute to cherished memories created in our homes–both old and new.

House portrait: oil on canvas, framed with natural wood float frame
This house portrait was a gift to our customer's mother, painted of their home that was destroyed by a hurricane a few years ago. The house was rebuilt, but it has never been the same. So, our customer commissioned this painting with us so that her mom could remember it forever.
A custom watercolor house painting is the perfect housewarming gift for new homeowners.

Watercolor house portrait
A watercolor house portrait is also a great gift to pay homage to a childhood home, a way to carry that childhood home with you through the homes and memories to come.
Hand-Painted Skylines – In Any Artistic Style
Often, places become a part of us–whether it be somewhere we live or travel to. A beautiful skyline can be brought to light by Paintru artists through a variety of painting styles–from photorealistic to abstract.

Abstract heavy-palette oil skyline painting
Custom portraits of skylines are excellent creative gift ideas for those who have moved to a new city and are looking to welcome it with open arms.

Paintru commission of the beautiful Austin skyline–oil on canvas
Have a friend or loved one who may be feeling the nostalgia after relocating to a new place from a city they loved? Bring a piece of their old home into their new one with a custom oil painting of their beloved city skyline.
This photo of the Melbourne harbor was painted in a bright, semi-impressionist style
Travel Landscape Paintings
For those with a travel bug, turning a travel photo into a custom painting is guaranteed to be a beautiful and memorable gift. From landscapes to cityscapes to portraits, these pieces will allow your loved ones to relive their travels as they look forward to their next.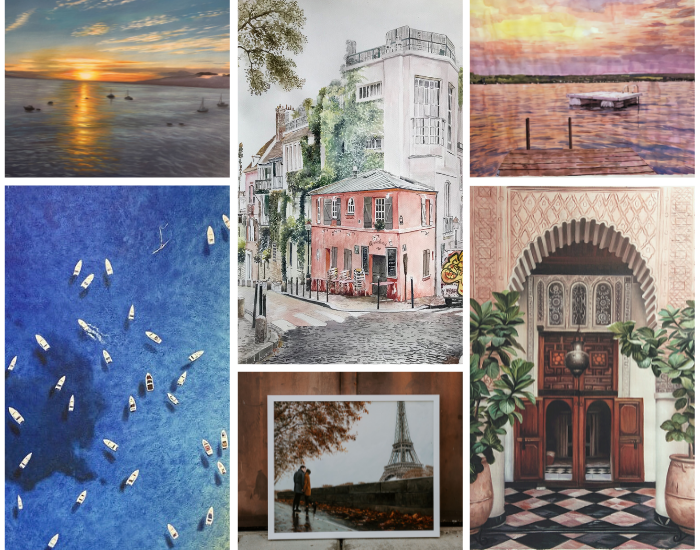 Studied abroad with a friend or went on the trip of a lifetime with them? Give them a gift that channels nostalgia of an admirable time and place.

Lake Garda Italy, painterly impressionist oil on canvas
Artistic Pet Portraits
Our custom pet portraits are perfect for pet owners with a taste for fine art. This gift is ideal for anyone on your list, from college students having parted ways with their furry friends to those who may have lost a beloved pet. And, for the friends and family who are simply pet-obsessed and can't get enough of their fur baby!
Watercolor "pet landscape" painting commission
Have a great photo that might not fit the aesthetic of your house? Our artists can paint your pet on a different background should your piece need some adjustments.
Oil custom pet portrait painting featuring a new background of vibrate grass and Bullet's favorite tennis ball
Paintru pet portrait paintings are the perfect way to commemorate any pet owner's furry friends. They will love seeing them portrayed on canvas.
Painted Album or Magazine Cover
Not sure of what to get a sports or music enthusiast? Preserve their favorite iconic moments and media in a way that can always be cherished.

Custom oil painting commission of a nostalgic magazine cover for a customer
Nursery Artwork
Looking to go off the registry and get something special for expecting parents? Custom nursery art for a newborn makes for the most sentimental of gifts.

Custom 'nursery-style' watercolor koala painting
A custom pet portrait or a favorite animal painted nursery style will be a warm welcome for a newborn.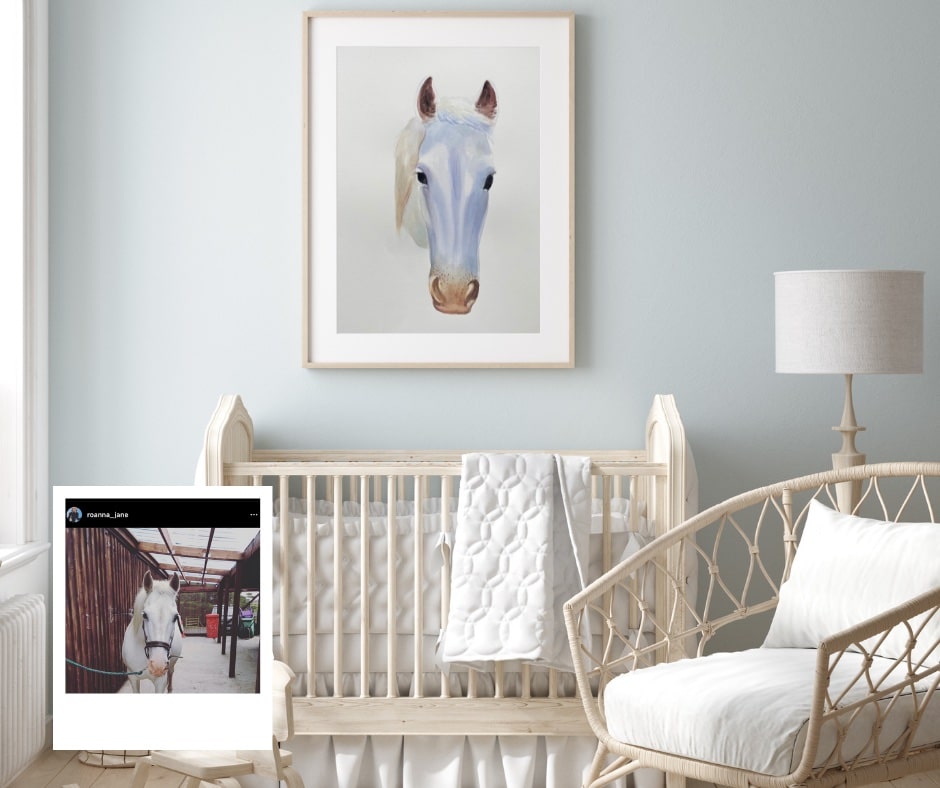 The most adorable (and personal) baby shower gift – a custom 'nursery-style' watercolor of mom's pony!
Wedding Artwork
For you and your significant other, your engagement and/or wedding is likely one of the most special and thought-out days of your life.

Black and white oil painting commission – this type of image is easy to gift as it fits into any interior decor scheme and location within the home
Surprise your loved one by making a perpetual tribute to your special day with a custom painting of a wedding or engagement photo or a landscape of the location. This is the perfect gift for an anniversary to reflect on the love promised to each other.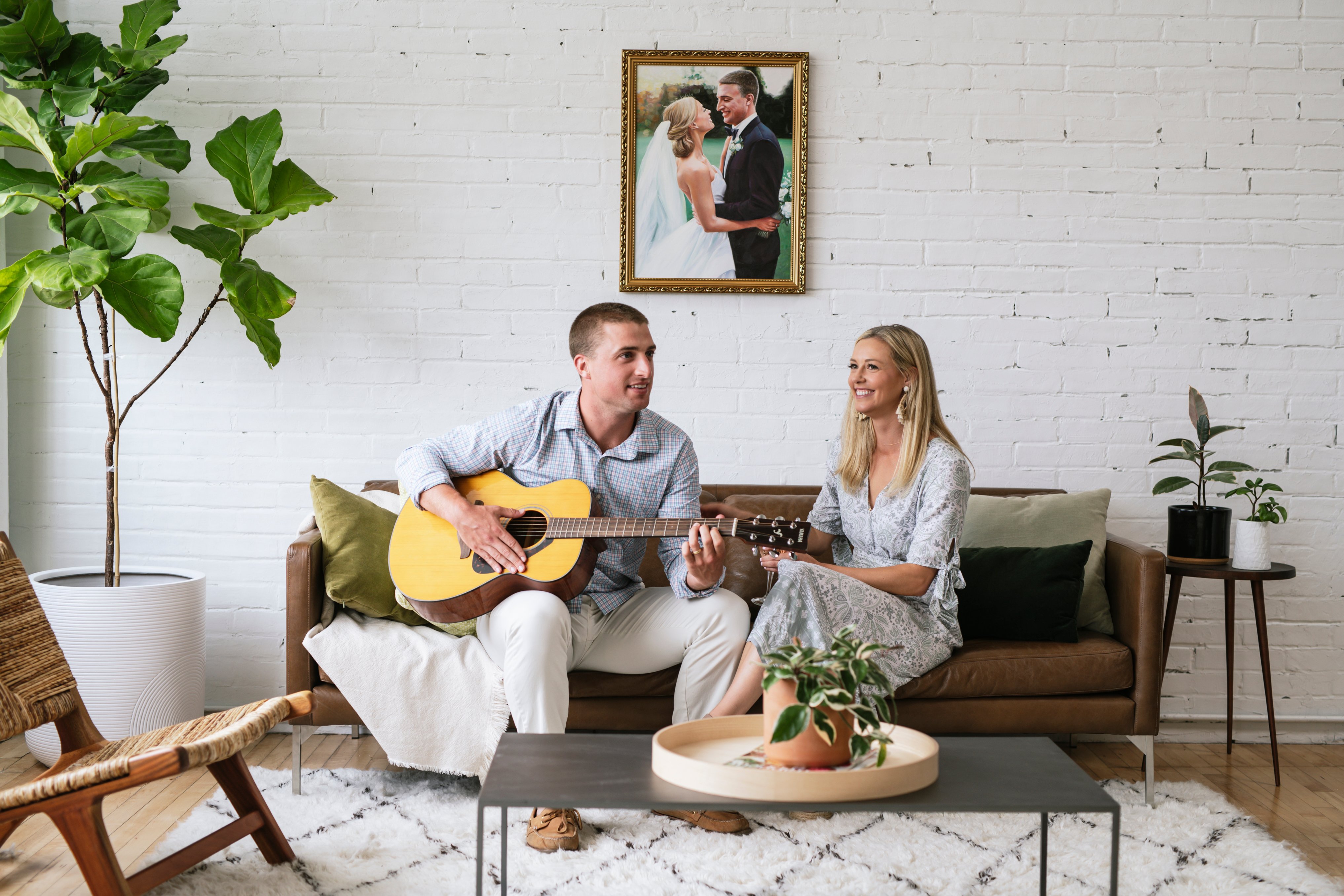 Golf Course Art (For the Man Cave)
Every golf lover has special moments in their career that make all of the precision and hard work the sport requires worth it. Custom oil painting and watercolor portraits create memorable gifts for golf lovers to showcase their appreciation for the sport.

The perfect Pebble Beach day, hand-painted oil painting on canvas
For some, it might be a lifetime experience playing on their dream course. Turn a photo of that special place into a painting that can be displayed and remembered forever.

Custom oil commission of Kirkland Country Club
A painting tribute to a hole in one or winning tournament is sure to be a creative gift idea that also boasts skills!
Family Portrait Paintings
Family is forever and transforming a family photo into a custom portrait painting is an excellent way to honor your kin. A custom family portrait knows no bounds for its recipients and is perfect for grandparents, those with new additions to the family, or perhaps a family that just attended a reunion.

Paintru custom family portrait: oil on canvas
Aprés-Inspired Decor
Relive mountain memories with a custom oil painting of a favorite slope or the kids' first ski trip! Hang your custom portrait at the cabin or in the home for that Après feeling year-round.

Oil painting commission for Cuts Clothing's Always On Campaign - 2020

Blue bird spring day on the slopes, custom oil painting commission
Art To Commemorate An Anniversary
Elevate your anniversary with a romantic piece that makes a statement. Turn a photo of a time, place, or even sentimental object into a custom anniversary gift.

This customer got creative with an impressionist-style painting to commemorate this happy moment

Have your first photo taken together or one from the day you said, "I do" made into custom artwork.
A custom painting of a sacred place whether it be the venue or honeymoon landscape is sure to be a prized possession for a loved one.

Oil painting commission of Hydra, Greece (ah so romantic!)
Honor the details of your wedding and create a custom painting of the wedding bouquet. This discrete and meaningful piece is sure to serve as a memorable gift for the bride.

Heavy palette impressionist oil painting of a dreamy wedding bouquet
Art For the Wine-Lover
Honor your loved one's enthusiasm for wine with a custom portrait that salutes their favorite vinos.

Talk about a wine cellar upgrade! Framed oil on canvas for Paintru customer
Artwork of their favorite winery or wine cellar is a creative gift idea to pay respect to their excellent taste.

Case De Uco, Argentina oil on canvas commissioned for a sentimental dining room statement piece
An artistic watercolor of their favorite vintage is certain to make a thoughtful gift.
And An Artistic Chef's Kiss**
Have a loved one on your gift list who absolutely loves cooking or exploring cuisines of the world? Make their kitchen a little more inspiring with a custom piece commissioned as an ode to one of their favorite culinary destinations or dishes.

Custom watercolor illustrations by Paintru featured artist Annie Yuen