Turning Memories into Art: How Paintru Combines Photos into Stunning Paintings
Abigail Pfriem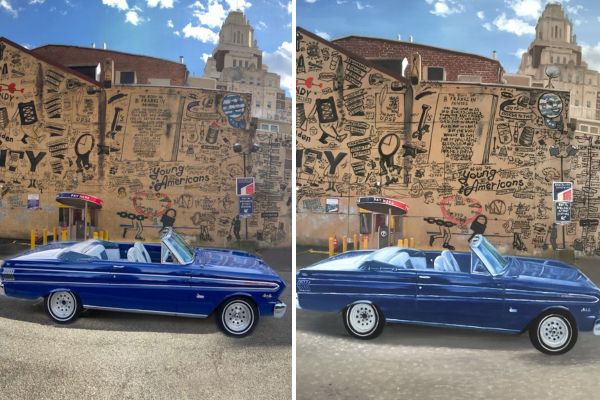 At Paintru, we believe that art has the power to transform memories into timeless masterpieces. Our commitment to bringing your cherished moments to life through hand-painted paintings is at the heart of what we do. We understand that every memory is unique, and sometimes, one photo just isn't enough to capture the full essence of a moment. That's where our expertise in combining different photos into one painting comes into play.
In this blog, we'll take you on a journey through our process of seamlessly merging multiple photos into a single, breathtaking painting. Whether you want to commemorate a special occasion, celebrate your loved ones, or simply create a unique piece of art, Paintru is here to turn your vision into a reality.

Step 1: Reach Out to Our Team
The journey begins with you, reaching out to our dedicated concierge team. You can connect with us by sending an email to hello@paintru.com. It's essential to initiate this conversation because every project we undertake is a collaborative effort between our artists and you.
Our concierge team is here to assist you every step of the way. They will guide you through the process, answer your questions, and help you gather all the necessary details for your project.
Step 2: Share Your Vision
Once you've made contact with our concierge team, it's time to share your vision with us. Tell us the story you want to capture in your painting. Provide us with the various photos you'd like to combine. These photos can include people, pets, backgrounds, objects, or anything else that holds significance to you.
The more information you provide about your vision, the better we can understand your desires. Our goal is to create a design that resonates with your emotions and encapsulates the essence of your memories.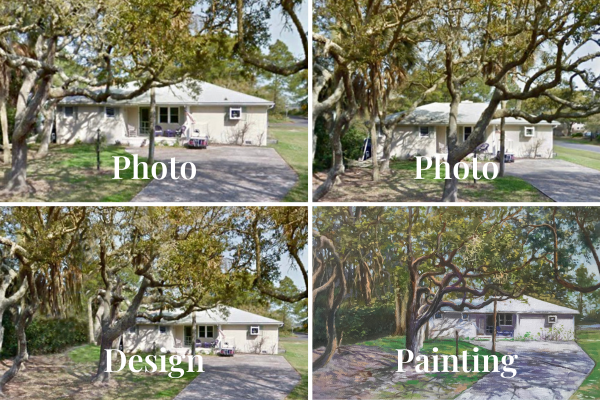 Step 3: The Mock-Up Design
With your photos and vision in hand, our talented team at Paintru will begin crafting a mock-up design. This design serves as a blueprint for your painting, combining all the elements you've shared into a cohesive composition. It's important to note that at times, the mock-up design may appear somewhat unnatural in certain areas. Rest assured, this is part of the creative process, and when painted by our skilled artists, it will come to life naturally and beautifully.
During this stage, we can add, adjust, or modify elements as needed to ensure the design aligns with your expectations. It's crucial to communicate any specific changes you'd like to make, whether it's altering the size or placement of someone or something within the composition.
Please keep in mind that once the design is submitted to our artists, it becomes the foundation for your painting. Any changes made after this point may not be possible.
Step 4: From Design to Canvas
Once you've approved the mock-up design, our team of highly skilled artists will bring your vision to life. They'll meticulously create your painting based on the design, ensuring that every detail is captured with precision and care.
Our artists use various painting mediums, including oil and acrylic, and can work in a range of artistic styles, from realism to impressionism. This versatility ensures that your painting is not only a faithful representation of your vision but also a stunning work of art in its own right.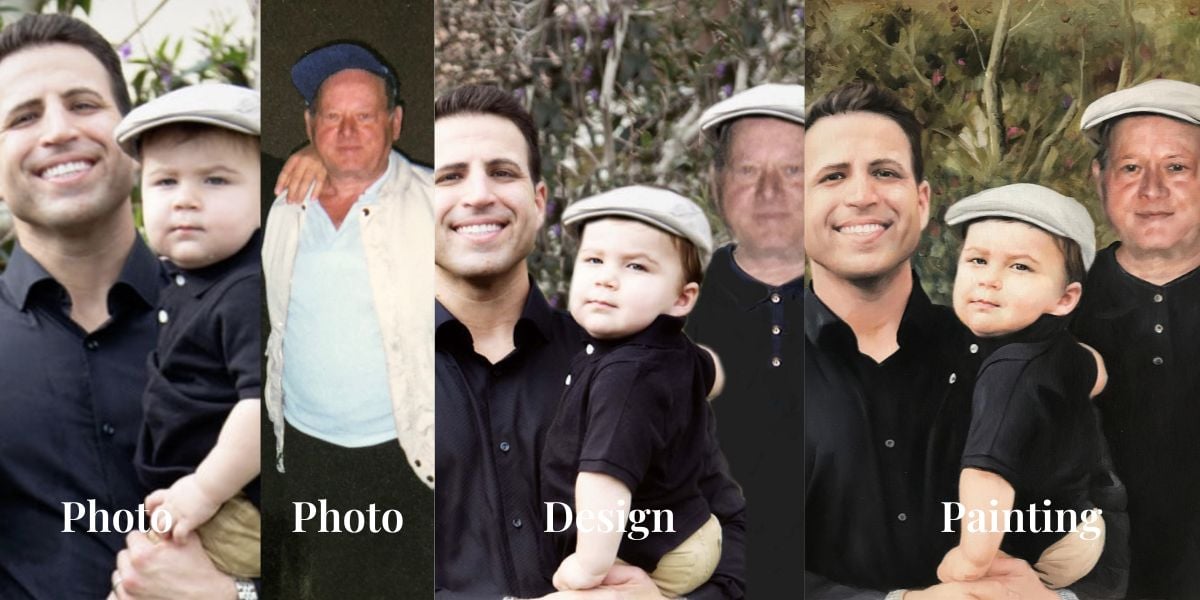 Step 5: Your Review and Approval
After approximately 10-15 days of dedicated work by our artists, your painting will be ready for your review. We'll send you a photo of the completed painting so you can see the masterpiece taking shape. This is your opportunity to provide feedback, make any necessary revisions, or simply marvel at the transformation of your photos into art.
We understand the importance of this stage, as it allows you to ensure that your painting aligns with your vision and expectations. Whether you want minor adjustments or are completely satisfied with the result, we're here to accommodate your preferences.
Step 6: Finishing Touches and Delivery
Once you've approved the final painting, we'll add the finishing touches. Your artist will carefully dry and frame your painting to protect it and enhance its presentation. We take great care in ensuring that your painting is delivered in pristine condition.
Your painting will be shipped from our warehouse in Mentor, Ohio, after quality inspection directly to your chosen address. We pride ourselves on secure and timely delivery, so you can soon hold your personalized masterpiece in your hands.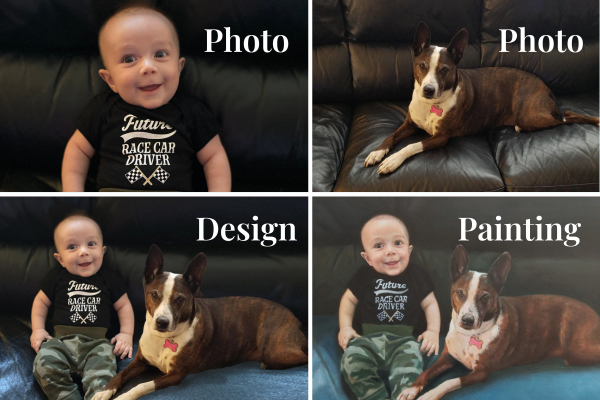 At Paintru, our mission is to turn your precious memories into breathtaking works of art. Our process of combining different photos into one painting allows us to capture the essence of your moments in a unique and meaningful way. Every step of this journey is a testament to our commitment to quality, creativity, and collaboration.
If you have a vision in mind or simply want to explore the possibilities of transforming your photos into art, reach out to our concierge team at hello@paintru.com. Let's embark on a creative journey together and create a masterpiece that will be treasured for generations to come.
Art has the power to transcend time, and at Paintru, we're here to make sure your memories do too.