How 2020 Impacted Art – Monumental Works and Thoughts From an Artist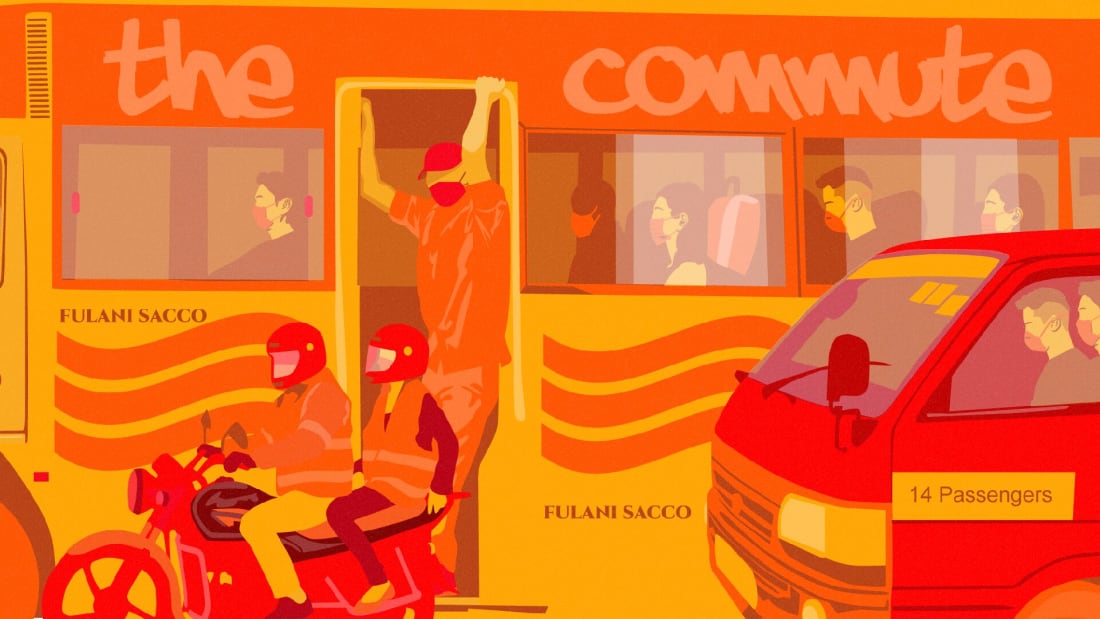 Art helps us connect to our inner selves and understand the world around us. It promotes creativity and exercises the brain. Creativity is the core of adaptability — our ability to acclimate to the new realities we face, most recently being the new normal the pandemic and 2020's societal unrest has brought upon us.
While art museums and galleries aren't considered essential businesses, art is an important. Many may agree essential, part of our lives, whether we recognize this or not. This year, each of our lives and the businesses surrounding us have learned how to pivot. This has been painstaking for many, brought about necessary innovation for some, and still leaves a majority grasping for hope in 2021.
We're pleased to share, after speaking with many artists within the Paintru community, that the result of the pandemic may not be as devastating for the art industry as initially anticipated.
Our societal connection to art and design has increased immeasurably. Everyone is spending more time at home now more than ever. From starting new DIY art projects, cooking together, moving, prioritizing more time to creative hobbies and passion projects, renovating, redecorating indoor spaces–it's all creativity. And thus, all ART.
We want to share a few ways in which 2020 has impacted the art world, including thoughts from the Paintru team and one of our respected artists, Tatiana Korotkevich.
Art for a Movement

Alongside the global pandemic, the largest American civil rights movement since the 1960s, Black Lives Matter, existing as a defining part of this year, and generations living through this time. This year will be spoken about and written in history textbooks for years to come. People in all 50 states, more than 700 U.S. cities, and at least 17 countries have protested in solidarity with Black Lives Matter, the group calling for an end to systemic racism and police brutality.
The Paintru team is absolutely honored to have had the opportunity to be part of the creation of iconic artistic depictions of the BLM movement.

Dr. Kerry Anne and Michael Gordon's mini-wedding became a national symbol of love and hope after postponing their wedding due to COVID-19. Paintru is honored to have been able to work on this memorable custom portrait painting.
This summer, Paintru created a custom portrait based on Ahmaud Arbery, an unarmed 25-year-old African-American man, who was fatally shot while jogging. Our customer ordered the painting requesting the addition of an iconic N95 mask and crown.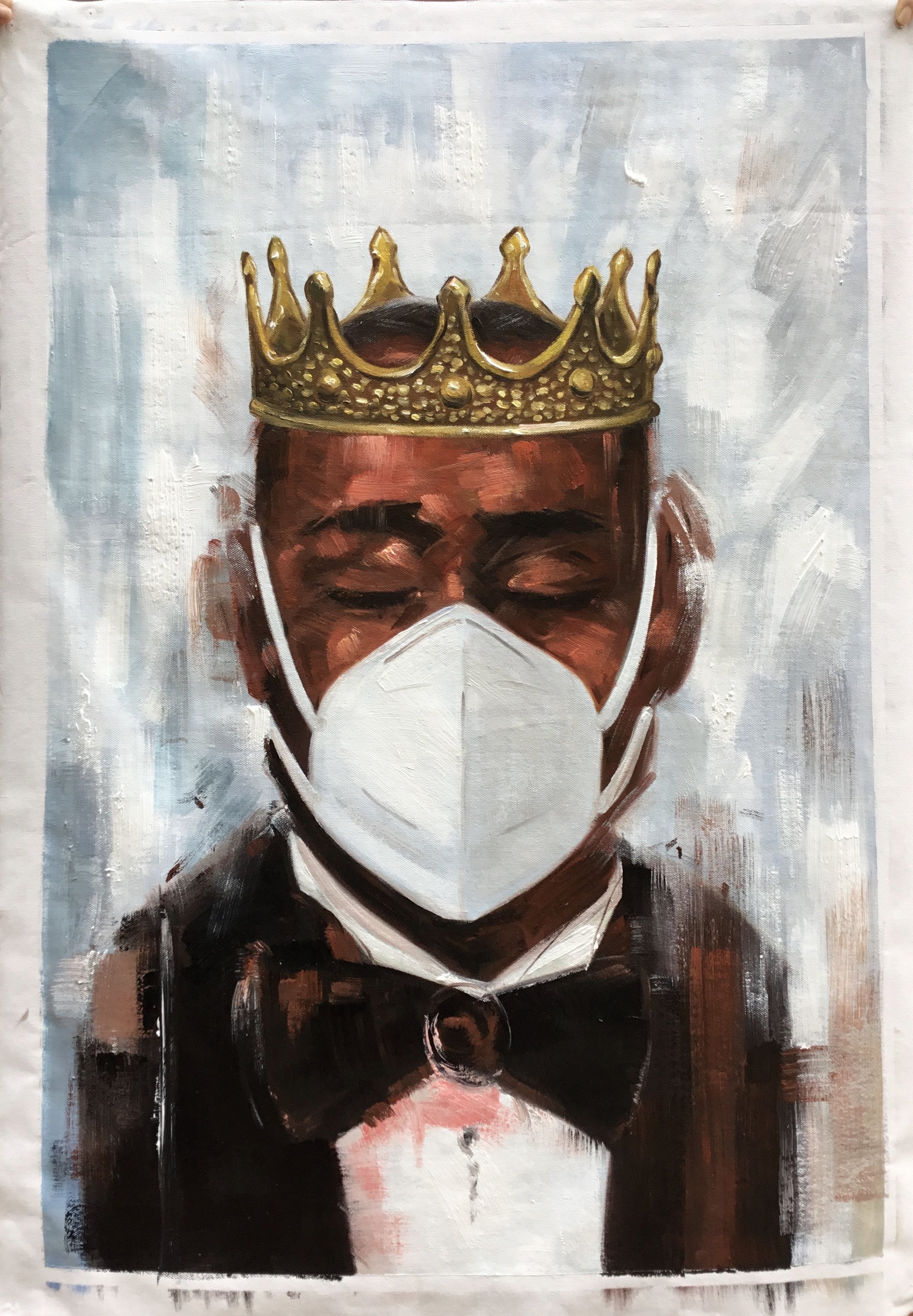 Custom portrait of Ahmaud Arbery, painted for customer in 2020
Learn more about this inspiring story, Painting During Chaotic Times–How 2020 Has Inspired Art
---
Art Tells a Story When Words Don't Suffice
There have been many incredible works of art dedicated to the pandemic–from outdoor murals to mixed-media pieces, we've seen an incredible array of creative expression.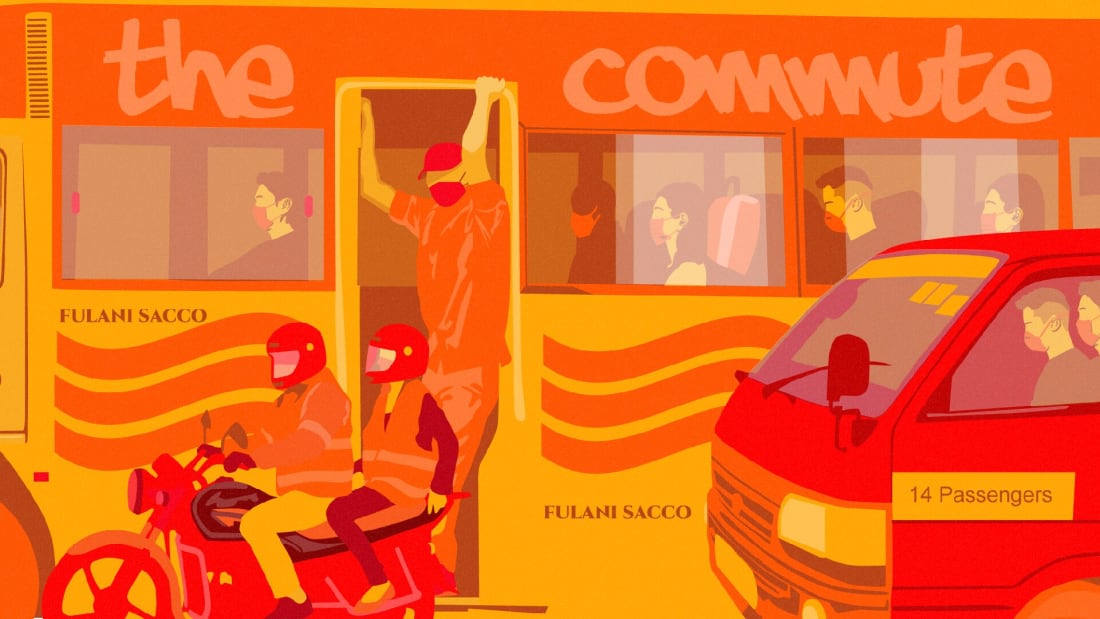 We have also seen a newfound interest in visual creativity, as a result of more time at home in addition to a need for expression.
The Washington Post published an incredible array of reader artwork.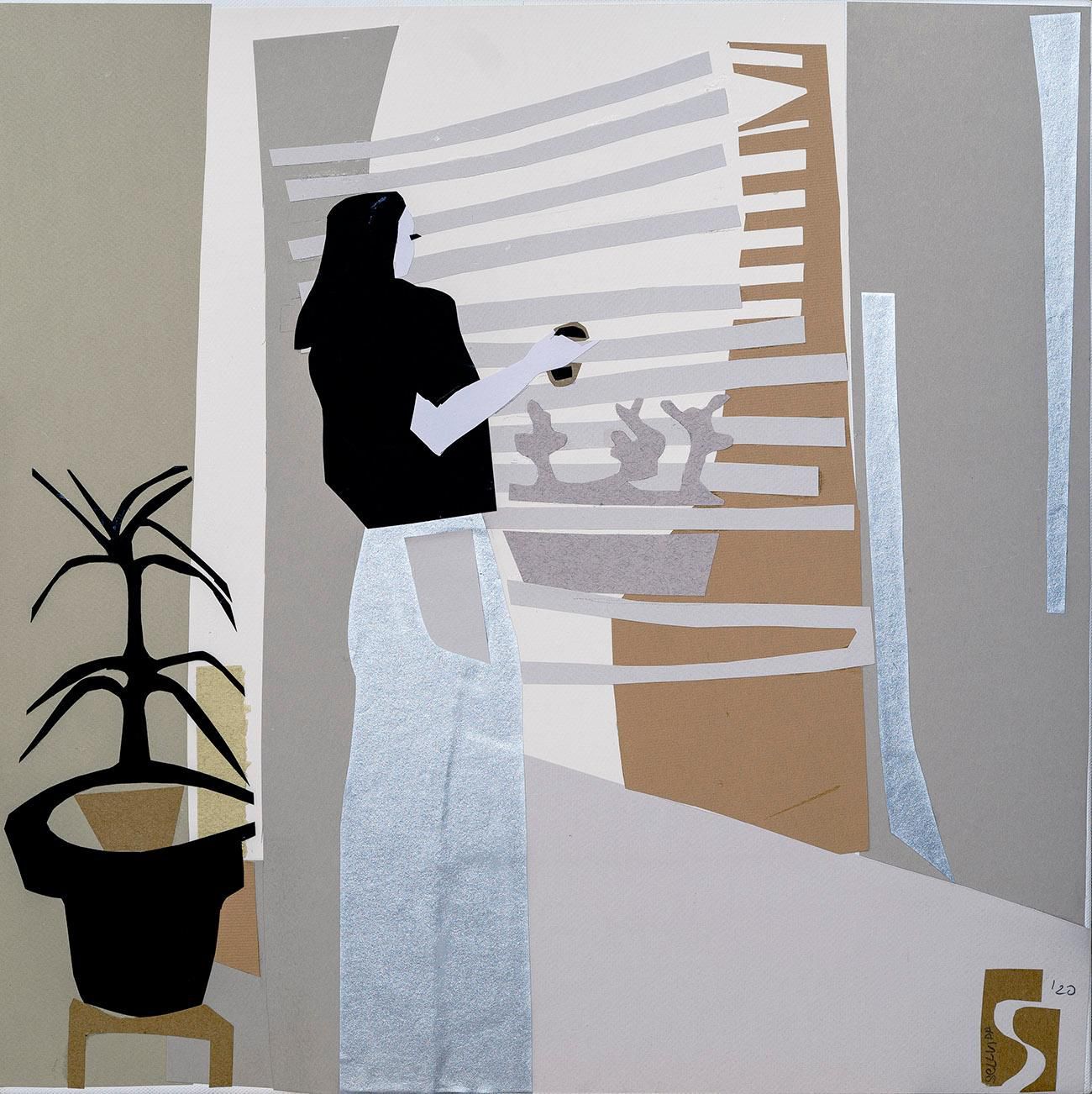 "A Quiet Place"
SILVIYA GEORGIEVA-SELLVIDA, 39, LONDON
Textured paper; collage on canvas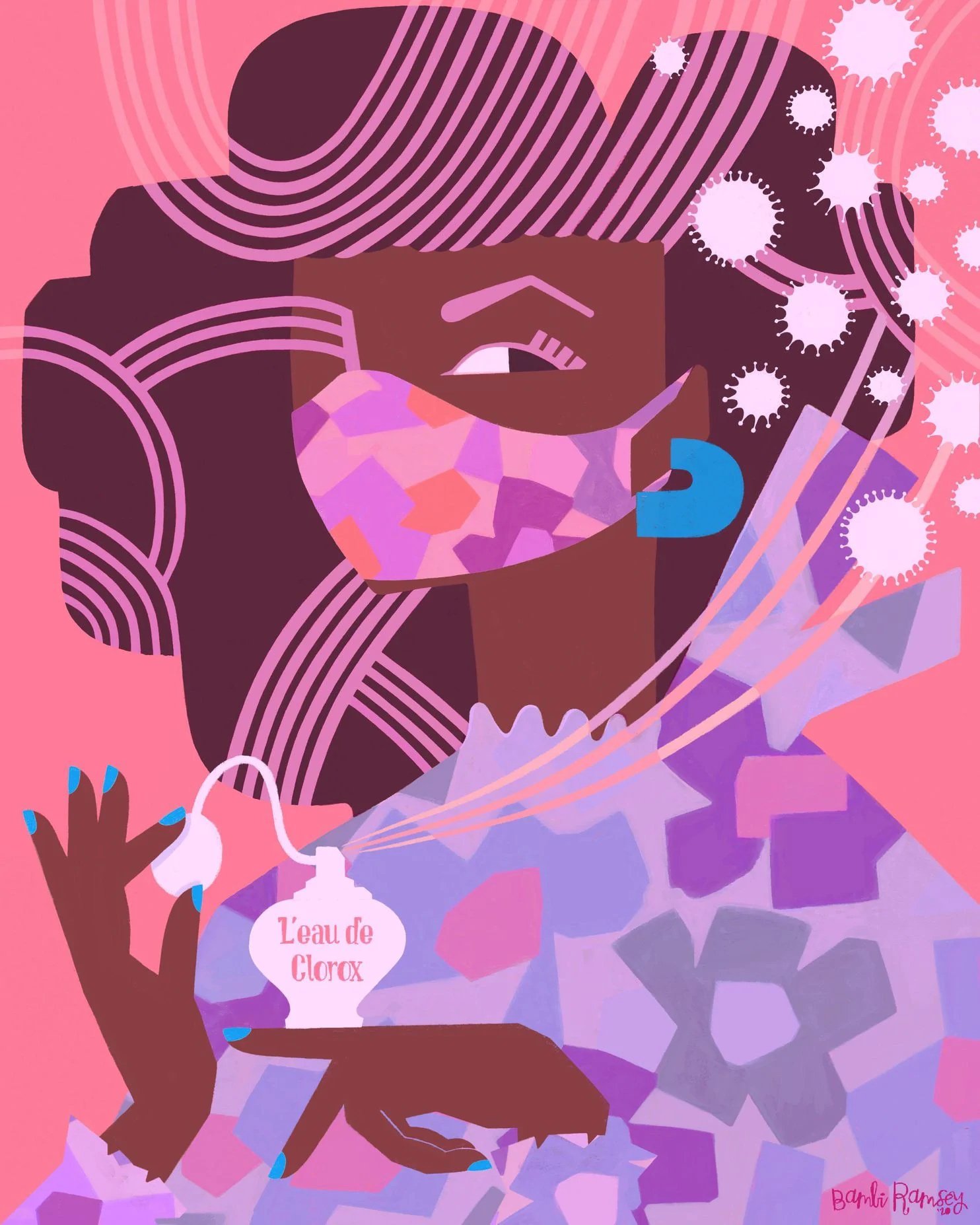 "L'eau de Bleach"
BAMBI RAMSEY, 45, REDDING, CALIF.
Digital (Procreate app)
---
The Impact of The Pandemic on Art Museums and Galleries
Due to the global pandemic, business models across the globe have changed significantly. Like most retail stores, galleries and museums have shut down entirely due to COVID, while others are currently operating in a different way.
Many galleries are operating on an appointment basis, which attracts serious buyers and art collectors, require allowing a minimal amount of people allowed to view the showcase work at a given time.

Outdoor side gallery viewing is becoming a popular way to showcase art, and one which we expect to see proliferate trend and will be super popular for the upcoming 2021 new year. Please, just don't forget your mask :).

There is no need to leave your home with virtual museum tours and gallery showings. Check out these

12 art museums

from around the work that offer virtual tours. Virtual gallery tours like Eden Galley are super popular at the moment, giving art opens a way to experience exploration from the comfort of home.
A Conversation With Tatiana Korotkevich About How The Pandemic Impacted Art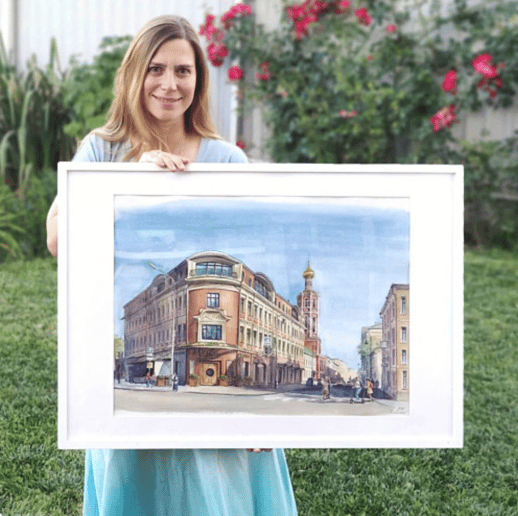 Q: How do you usually generate income from your art, do customers contact you for specific pieces or do you use your creativity to inspire pieces beforehand and then sell them in places like galleries/exhibits?
A: The main focus of my work is urban sketches and. My main gallery is my Instagram. Almost all my orders I receive are through Instagram. M - most customers find me by themselves, or via recommendations, as I don't use specific tools for promoting myself as a commercial artist.
Usually, people order sketches of memorable places. I also draw interiors and exteriors for cafes and restaurants. Sometimes, I have joint projects with publishers who also find me on Instagram, such as illustrations for covers, cards, calendars.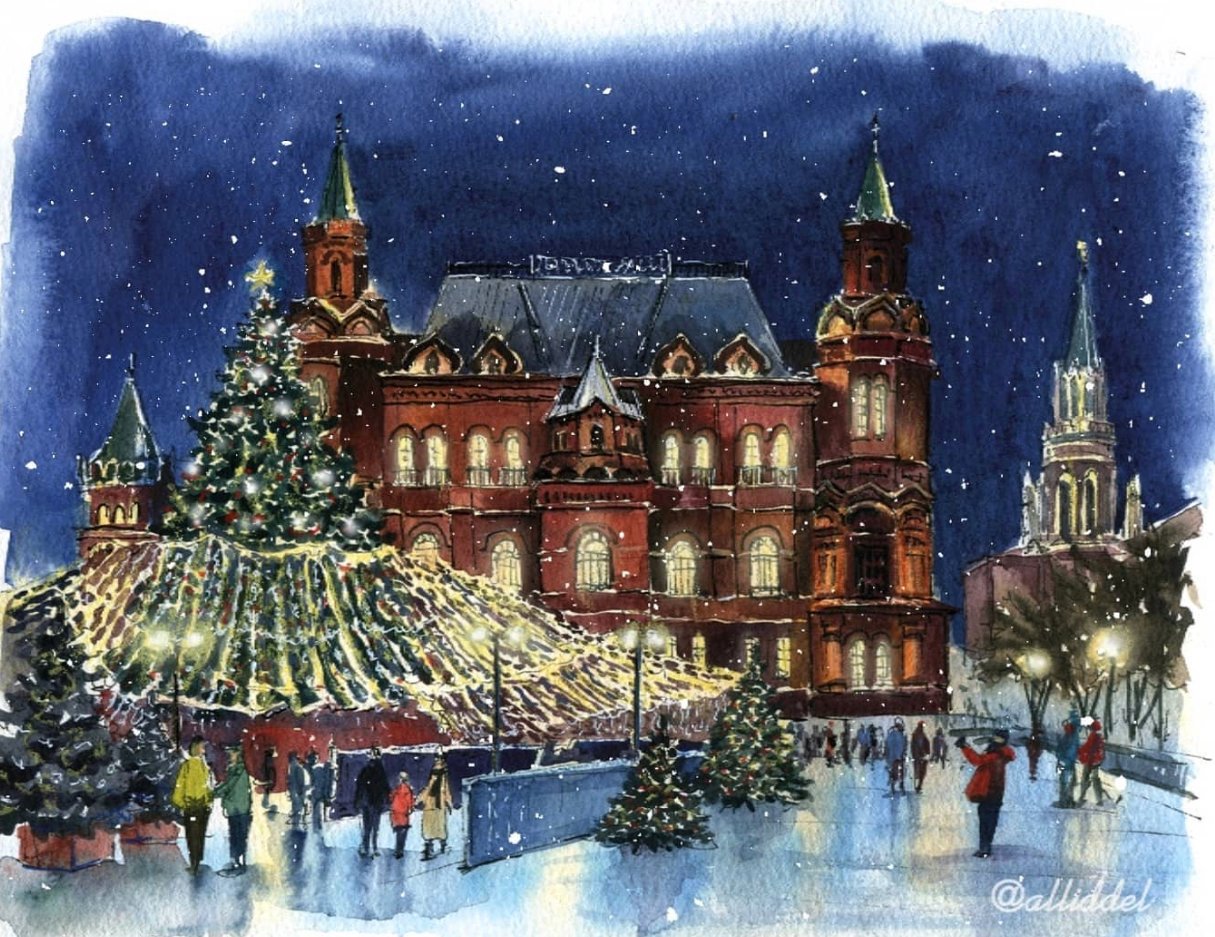 Q: Сan you tell us a little bit about where you are from and where you grew up? What is your preferred medium and why have you chosen it? Have you done professional training in it and has your work been featured in interesting places?
I was born and spent my childhood in Siberia, but I have been living in Moscow for the last 20 years. My favorite mediums are watercolors and markers, they are united by such property as transparency. It is this lightness, transparency, sensation of light that I try to convey in my works. I graduated from art school in my childhood, but my education has nothing in common with art - I have a bachelor degree in physics. A few years ago, I returned to painting. In order to develop, I attended watercolor courses and master classes by world famous artists. My watercolor works are regularly exhibited at the international exhibitions IWS and Fabriano.
Q:
When did you see your art business begin to change because of Covid-19?
In early March, the international art trade fair in Taiwan, where my works were supposed to go, was canceled. After this, several exhibitions were canceled sequentially.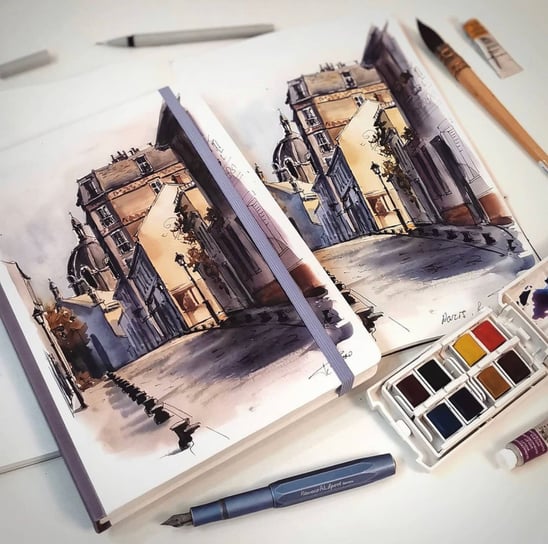 Q: How did the timing of your business changing in your hometown fit with the coronavirus outbreak in your area? What gives you hope about how local residents have handled the outbreak?
Now, we all try to find a new way of life and work. I live in Moscow and we now, as with most countries, have strict rules regarding quarantine – self-isolation, as it is called in Russia. We have regulations and of course, it now makes ordinary things difficult, like teaching and holding workshops, or simply sending paintings to the post offices.
At the outset we all were a bit careless about the coronavirus and thought of it as the simple flu. But, when the governments began to close the borders and take actions against coronavirus, the mood changed: we all understood the seriousness of the pandemic.
Q: How did you find Paintru, did you enjoy working with Paintru as a featured artist online?
Initially, it was Paintru who found me and reposted my work. I was impressed by the number of subscribers that came from there, this is really a large and effective platform for promoting artists.
Q: Why is Paintru a great place for exposure for artists during this time?
I connected with Paintru through Instagram. I like the quality tier of works presented on the platform. Many public profiles post everything for money. In the case of Paintru, it is an honor to be included in their well-curated selection. I really like the section showcasing the studios of featured artists and hope that in the near future I will shoot a video of my workplace.
Q: Do you think your traditional business (gallery sales and large gatherings of people for exhibits) will recover, and if so, when?
It takes much more than one month to organize a large exhibition. For most of the summer of 2021, exhibitions have already been canceled. It seems to me that exhibition activities will resume no earlier than autumn. Small galleries and exhibitions will open as soon as restrictions are lifted. Unfortunately, many of them will not open anymore... Also, I'm afraid that many people's financial situation will become much worse, so I predict that there will be much fewer orders in spring and summer. However, I'm confident in everything being restored closer to the fall holidays and Christmas because everyone needs gifts.
More for you:
10 Ways to Spark Your Interior Decor Creativity
The Best Home Interior Gifts for Interior Designers and Interior Decor Lovers
How to Commission Art – The Paintru Guide