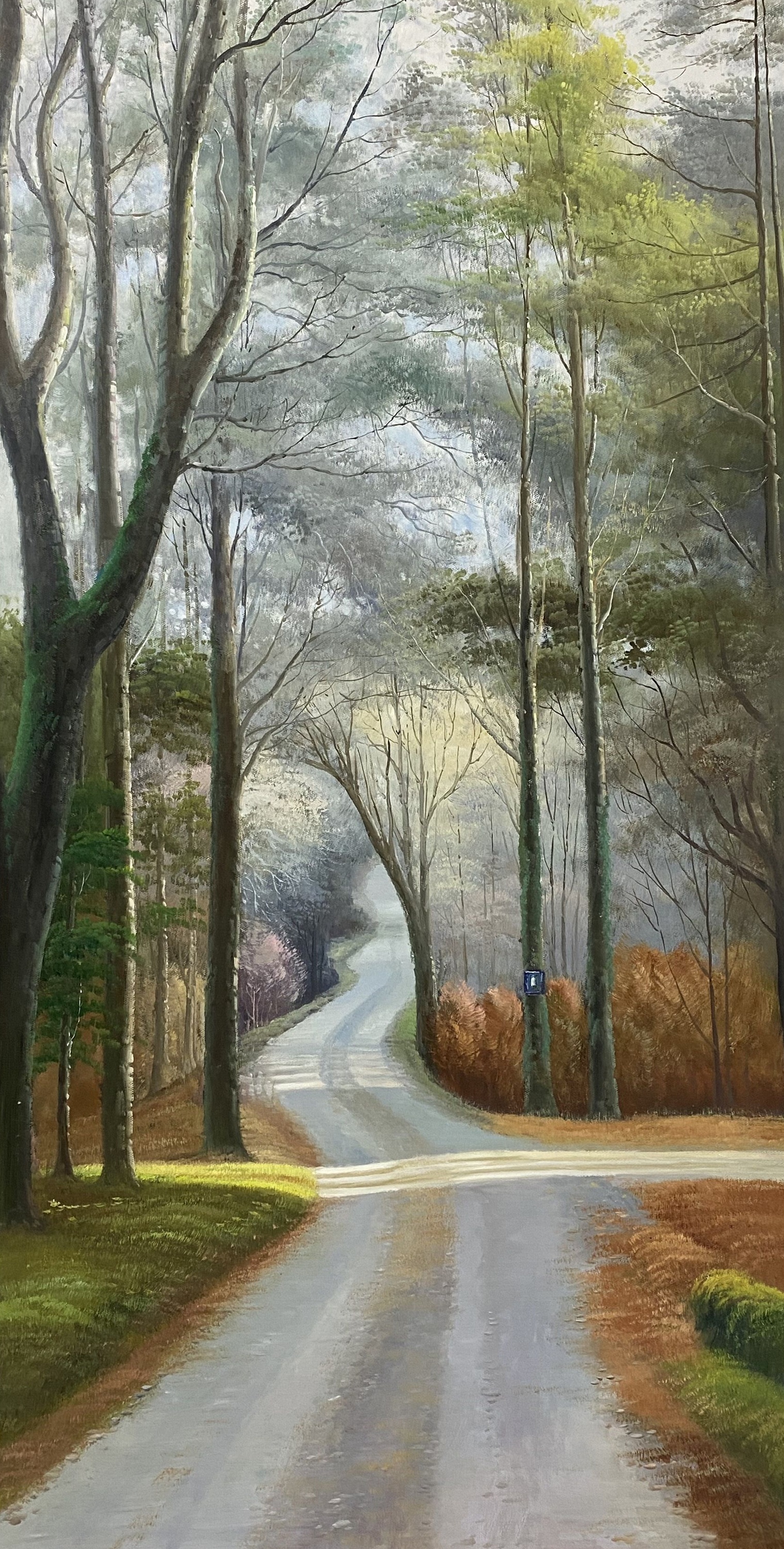 "Enjoy the journey as much as the destination." – Marshall Sylver
This quote from Marshall Sylver, and many others like it, emphasizes the importance of enjoying the journey as much as reaching the destination. This perfectly reflects our process here at Paintru. While the desired end state is a striking masterpiece hanging on your wall, we love the journey it takes to get there. And we hope you do, too!
The first step on this adventure is choosing a photo that you absolutely love. One that inspires you. One that you treasure. Maybe there is one that immediately catches your attention. Maybe it feels like you have so many to pick from it is impossible to choose. Either way, you come to a decision, upload it to our site, and click "submit."

For this home project – two photos were submitted and turned into this photoshop combination.
Keep Hiking
Around the next bend, you will be matched with an artist from our extensive and premier network of talented professionals. This matching process will reflect your desire for the style of artwork as well as the subject matter of your piece. Time to stop for a quick water break!
Check Your Map
After the river crossing, you will receive a wet revision photo from the artist to include a "first draft." At this stage of the journey, you will get your first look at your commissioned piece. We strive to have your painting approved when you receive your first wet revision!
It is at this time that you can communicate any changes you would like to see. Once any changes are made, you will receive another photo. This revision process will continue until you are 100% happy with what you see – and approve your painting.
On this first wet revision – the customer wanted to see the tree overlap to the left of the house adjusted.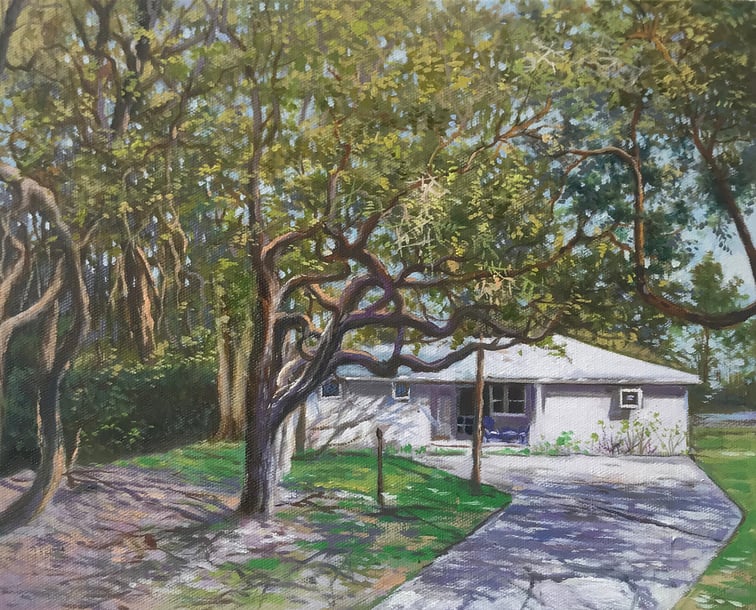 The painting was adjusted and approved for shipping – this is the final painting.
Enjoy the View
Over the next ridge, you are able to take another break and enjoy the view as you patiently wait for your painting to be shipped to our Paintru warehouse. Here, we conduct a quality inspection and make sure everything is absolutely perfect before shipping to your home.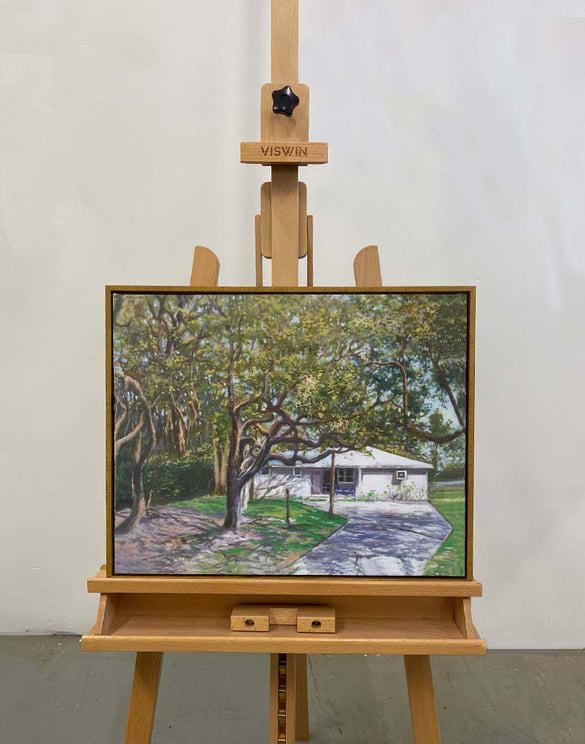 Here the painting is seen in our warehouse – where we conduct our quality assurance check.
Down the Mountain
As you continue your Paintru journey, you excitedly anticipate the day your painting is delivered. Your eyes light up at the sight of the package on your doorstep. You carefully extract your piece from the bubble wrap and cardboard! At last! Your beautiful painting is before your very eyes!
Reach Your Destination
On the final leg, it is time to frame your artwork and hang it in the exact place that you had already chosen for it. Maybe you even decided to have your masterpiece framed with us and can almost instantly hang it on your wall.
Perhaps your painting is a gift and you plan to wrap it and hand it to a loved one or friend. This adds another step to the wonderful Paintru journey as you watch with anticipation to see their reaction!

This painting was given as a gift – see the joy on her face!
The Journey
When you glance at your Paintru artwork in passing or spend several minutes staring at it, we of course want you to be completely satisfied and know in your heart that this beautiful piece is 100% #tru2u. We also recognize that there are steps along the path from photo to masterpiece. We are there with you every single one of them as you receive email updates and prompt responses at every turn. We treasure the journey just as much as the destination and hope you do, too! Let us know when you are ready to take our first step together!