A Custom Pet Portrait Painting That's Truly a Work of Art

Aidan Casey
Pet portrait paintings have become increasingly popular for obvious reasons. Pets are often considered our best friends and even family members who love us unconditionally, thus deserving to be turned into a work of art.
As we look through the history of art, it's quite impossible to ignore the prevalence of our four-legged friends.
Pet Portraiture Has A Rich and Lengthy History
Animals were depicted as far back as 19,000 years ago (found in caves in Lascaux, Southern France), domesticated animals appearing in works in Babylonia date back to 3,500 BC.

The famed "Bull In Cave" paintings found in LaLascaux Montignac and Dordogne. Image source: The Smithsonian
It is now quite impossible to stroll a National Gallery or The Louve without coming across the god-like Egyptian cats, bizarre and often fantastical creatures of the Medieval Times, stately (yet tiny) Renaissance terriers sat upon the laps of nobility, and the muscular statue of Roman horses, and fond Victorian-era black and white photographs of household pets.
Whistlejacket, George Stubbs, 1762, National Gallery of Art, London
Paintru Pet Portraits: Far From Ordinary
And though commissioning custom pet portraits that turn a photo into a painting isn't a novel idea, the quality of a piece from Paintru is easily the first-rate option in comparison to anything else on the market. The customer service, ability to customize your piece, attention to detail, and quality of our paintings are what sets us apart as we perfectly tailor your experience from start to finish. Plus, pet portraits painted by museum-quality artists start at just $110!
Paintru Pet Portraits Featured in BuzzFeed, Read More >

Paintru original custom dog portrait painting: oil on canvas
How To Commission a Custom Pet Portrait Painting From Your Favorite Photo
Paintru makes it so simple to order your very own hand-painted artwork from your favorite photo(s) of your pet. Simply upload a photo, choose a size and provide any style direction you'd like and Paintru takes care of the rest–From matching you with the perfect artist, managing feedback and revisions, and shipping directly to your door.

Choose Your Pet Portrait In Style
Paintru offers a variety of style options allowing you to obtain a hand-painted custom pet portrait that is anything but basic. From colorful watercolor pet portraits to somber pet memorial paintings, a striking oil depiction of your perfectly posed cat to a playful scene that captures the spirit of your favorite animal–Paintru custom pet portraits are incredible additions to your home or a gift for a loved one that will be cherished for generations.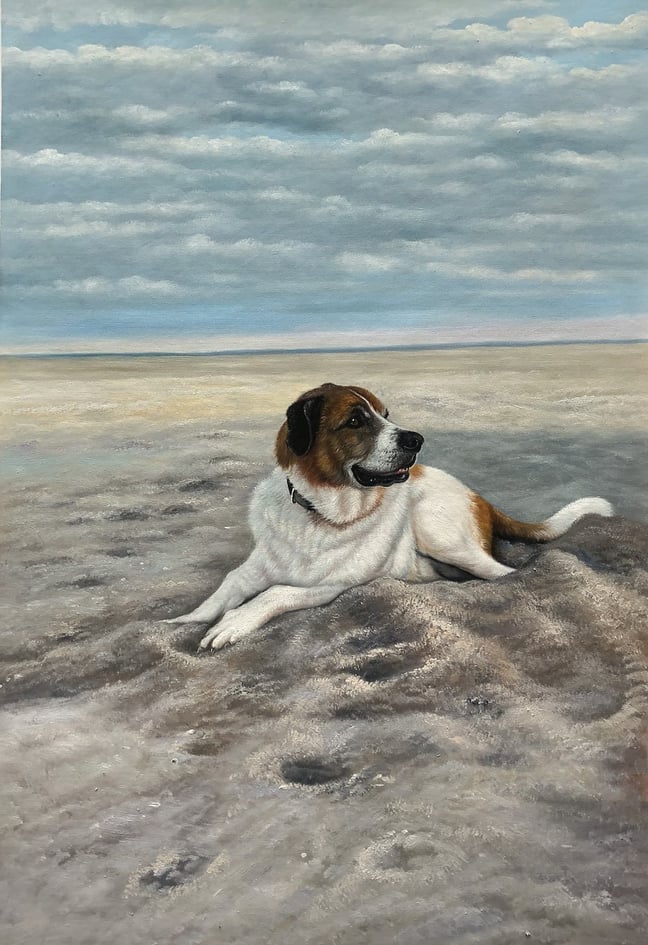 Paintru original dog portrait painting: oil on canvas
Through the expertise and capabilities of Paintru's diverse artist network, you can curate the perfect picture that will never end up in storage.
A pet portrait that doubles as a stunning landscape piece? Take a look at this Paintru custom painting that draws its viewers in and provides a scene you'll want to stay and study.

Paintru original custom pet & estate portrait
Hand-Painted to Order to Achieve Your Vision
Paintru artists can modify and adjust the images provided to create your perfect masterpiece. This includes changing the background, adding objects like your pet's favorite toy, merging separate photos of pets, or even just boosting and altering aesthetics.
Have the perfect photo of your pet, but don't care for its background? Let us help to design the perfect backdrop.
Paintru original hand-painted cat portrait: oil on canvas
This work of art was created by unifying 5 different photos submitted by a customer.
Paintru original custom dog painting created from a composition of 4 photos and a custom background
An altered background and pop of impressionist color is also helpful when trying to tie in the aesthetics of your new piece to your home decor.
Impressionist-style custom dog portrait painting with custom background: oil on canvas
With Paintru's top-tier portrait artist network, you can create beautiful pet and owner paintings.
All animals are welcome to join the Paintru family! Even a horse, of course.
Custom horse and rider portrait: oil on canvas
Pet Memorial Portraits
Make memories with a man's best friend live on forever with a memorial portrait.
Another Paintru original that doubles as both a pet memorial portrait as well as a beautiful landscape
It seems that so often, our pets leave us too soon. Paintings of lost loved ones serve as constant reminders of how our pets enriched our lives and are a great way to honor them.
Tips for Creating The Perfect Pet Portrait Painting
1. If you are looking for a more artistic piece, images where the pet is smaller and in the forefront of a beautiful landscape, a photo with vivid colors, or photos of your pet in motion are all great options.
This watercolor closely mirrors the original photo but with an artistic touch that
cannot be beaten.
Watercolor dog portrait painting
These bold colors will leave you feeling inspired, and heart warmed!
Custom oil dog portrait: oil on canvas
2. Subtle hints of motion paired with a beautiful backdrop make for effortlessly artistic memorial portraits that are far from contrived.
Custom oil dog portrait painting
3. If you want to ensure the piece will look good in any space, black and white or sepia tone paintings are great options. This is also a great option for gifting.
Mono-tone pet portraits often communicate emotion in a beautiful and simple way
Black & white oil dog portrait painting commissison
4. 8 x 10" is a great small size that fits nicely on a desk or within a bookshelf.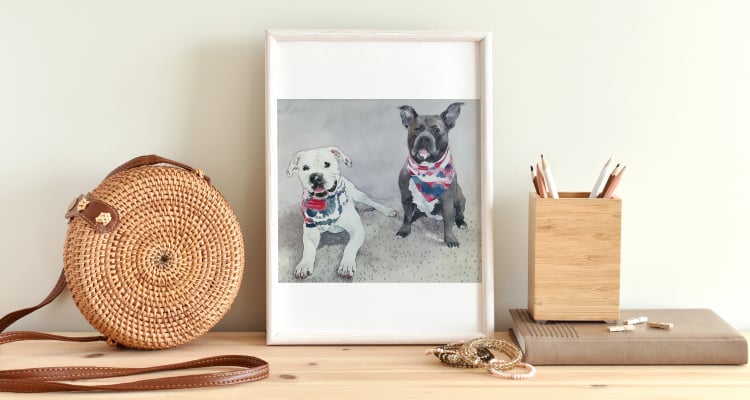 5. Have fun with it! The world is your oyster with your custom per painting! Our artists can bring your vision to life. Not feeling inspired? Live chat with our concierge team at any time and we'll help you create a masterpiece.
Our customer wanted to give her cat a little bandana for this fun commission!
6. Though they may not need it, adding some extra character to your pet is a fun and creative way to make your piece unique.
Our custom paintings provide a great opportunity to highlight your pets' personalities and are sure to always bring a smile to your face.

A "just for fun" oil painting commission of three adorable dogs and their favorite treat
Feature story: Bullet
Bullet was brought into our customer's family home as a puppy and immediately bonded with his father. When Bullet passed, the family was devastated. Our customer's father took the loss the hardest, as he viewed Bullet as a son.
The family decided to commission this painting of Paintru as a gift to the father. The painted was made to include Bullet's favorite tennis ball, the last one he had with him when he passed. It made for a beautiful and meaningful gift and a perfect tribute to Bullet.

Custom dog oil painting portrait with added background and a favorite toy
Want to learn more about how Paintru helps you to bring your pet to life, hand-painted to order? Click here for more information >