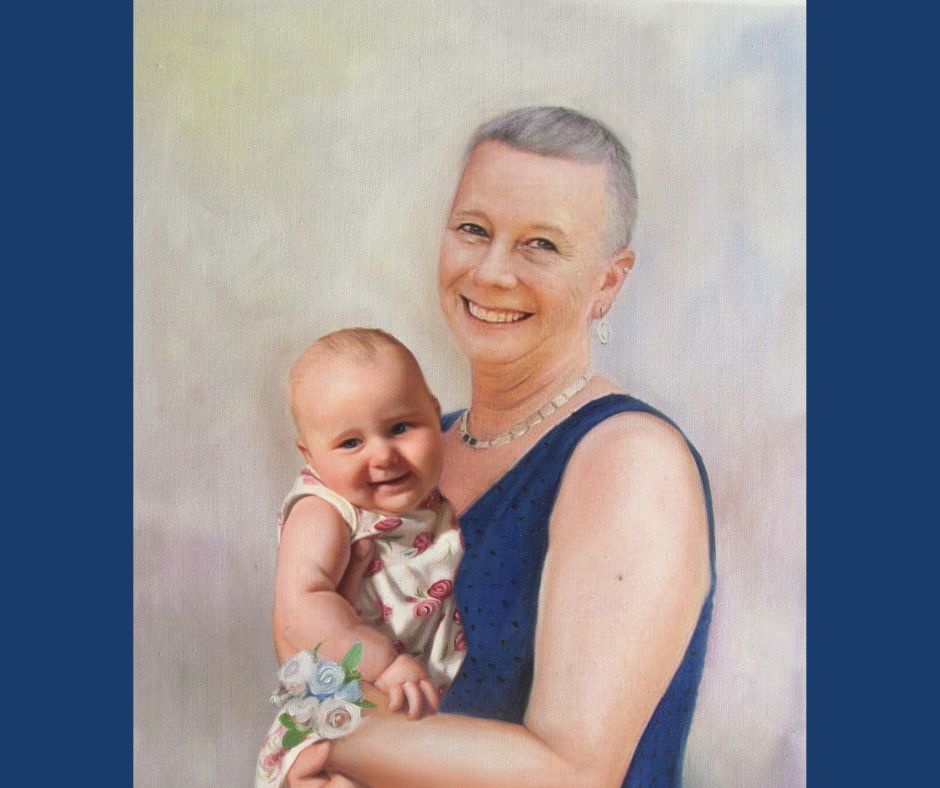 Did you know at Paintru, we are able to create a painting by combining multiple images? Do you have multiple images you would like to use? It may be combining wedding photos or adding a loved one to a precious moment. You can make your painting #tru2u when you create a combined image painting!
What is a combined image painting?
It is a painting that joins more than two photos together. How does that work? Our team will create a photoshop design that combines the photos. The design is solely for the purpose of size and placement, it may look unnatural, but our artists will be able to paint everyone natural-like. Our artists paint based on the photo we send them. It is important to understand that when the design is approved that no other changes can be made.
This family had only two photos of their home before a hurricane destroyed it. They rebuilt their home, but it was never the same. The customer wanted to gift her mother with a special painting showcasing the house and landscape. With some simple photoshopping skills, we were able to recreate their home and create an amazing painting!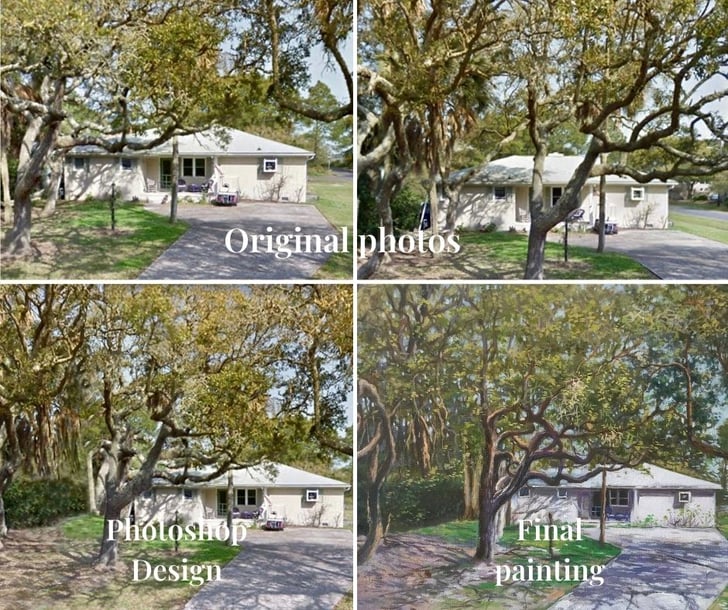 Why would I have a combined image painting created?
There are many reasons why someone may want a combined image painting. For example, changing the background, adding a loved one or pet, switching faces, or just creating something unique!
This customer's father-in-law passed away and loved the face of his wife in one photo and the face of her father in the other. With simple photoshopping, we created a design that looks almost as real as the moment.
How do I know which photos to use?
Choosing the photos to be painted can be hard. At Paintru we always suggest the higher quality of the image, the better. This is so when your artist zooms into the photo, they will be able to see the details on your faces, clothes, background, etc better. You may ask yourself, what if the photos I want to use are lower quality? No problem! We're able to create paintings from lower-quality images. We ask that you send us reference photos to help with the details.
If the main image you would like to use is high quality, but another image(s) added are lower quality we can still add them. A lot of our combined image paintings are memorials. Most likely a loved one passed away and our customer wants to add them to a special/meaningful day.
Below is an example of a wedding painting in which the customer wanted to add their grandparents into the painting, but only had lower quality images. Our artist was able to paint great details based on the reference photos provided. You can see that idea came together well in the final painting!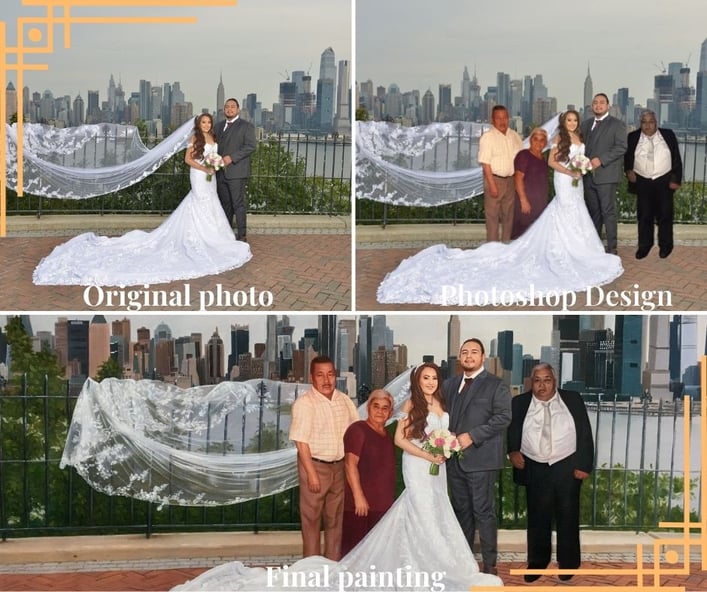 Tips for deciding on pictures:
We are able to change the background to the image or color to your liking. We ask that you find images of what you imagine. Our artists are able to take creative liberty when they paint, but it is best when they have a photo to reference.

If the people in the main photo are standing, then we recommend the additional person(s) to be standing as well. This will help make the design and painting look more natural. If you do not have a picture of the person(s) standing we are able to create a body for them, but it may not look as natural as you would imagine.

If you would like to switch the clothes of the people, we absolutely are able to! We ask that you send us the exact shirts, pants, shoes, etc. This will help make the design process easier for our team and create exactly what you are envisioning!



We love this unique painting! This customer asked to add a church behind him, turn day to night, add fog, and include different planets and moons. We think this is one of the most unique designs/paintings we have ever done!


How do I begin?
First, reach out to our team via hello@paintru.com or chat! Our website only allows one image to be uploaded at a time. It is important to work out all the details with our concierge team so the design will be what you imagined. Once all the details are worked out, our team will start to create a photoshop design for you. After a few days, you'll receive a photo of the design. Make sure size and placement are perfect since our artists paint based on the photo we send them. After the design is approved, our team will submit your photo to your artist to begin your painting!
This beautiful couple loved the image of them looking at each other, but preferred to have the purple sky from the second photo. I think our team created a masterpiece!

Combined image paintings are so meaningful since they are #tru2u. If you can dream it, we can make it happen!