Artwork Lighting to Best Illuminate your Masterpiece

Aidan Casey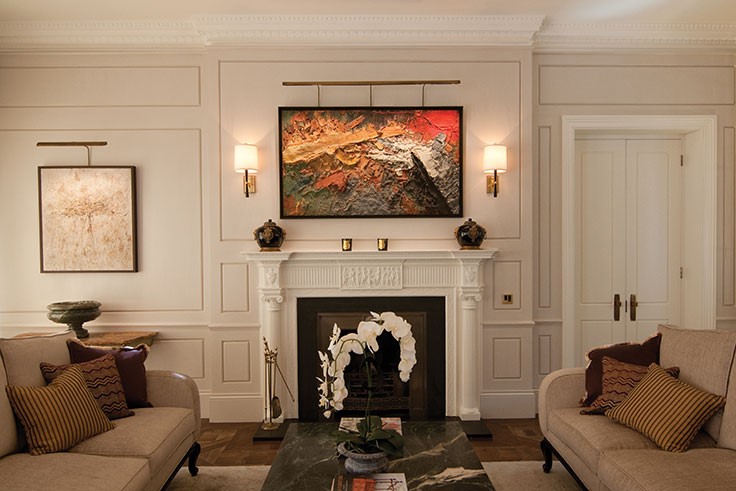 Though your custom Paintru artwork will shine beautifully on its own, proper artwork lighting can further highlight and enhance your masterpiece. Illuminating your painting will strengthen its focal points while elevating the ambiance of the entire room. Whether it be a floor, ceiling, or wall light for your artwork, the right lighting will draw viewers in and showcase the story your artwork has to tell.Here are Paintru's tips on how to light artwork on a wall once your masterpiece has been brought home.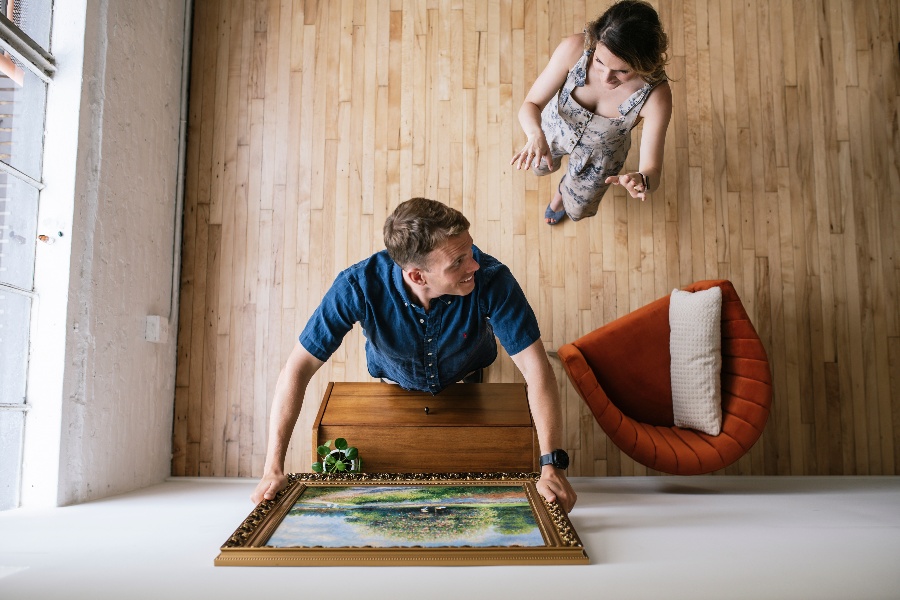 Lighting Basics
Direct sunlight can be damaging to your artwork over time.

It is best to illuminate
your piece artificially for its protection so that it can be admired even when
the sun goes down. Though halogen and incandescent lights are still popular, they
both emit heat and require additional measures to be taken if used.
Read more about how to keep your painting in pristine condition >
Today's top choice for artwork lighting is LED.

LED is recommended for all mediums of art as its bulbs do not emit UV rays and produce very minimal heat. They are also available in both warm and cool colors to best compliment your piece.
The angle at which the light hits your art is important. A recommended angle of 25-35 degrees is suggested for a balanced distribution of light and to avoid glare. Consider this when displaying your art and choosing a light source.
Avoiding Glare and Shine
With their glossy surfaces, oil paintings are prone to glare and shine. Indirect light fixtures or ones with multiple dim light sources are great options for your piece to shine evenly and without glare.
As we recommend watercolor paintings are protected by glass, they too face the obstacle of being prone to glare. An angle of about 30 degrees is generally best for their display, but you may need to play around with your lighting angle to get it just right.
Artwork Lighting Fixture Options
Ceiling-mounted
Wondering how to light artwork on your wall? Ceiling mounted lights will make your piece the star of the show. Be sure to angle your fixture at 30 degrees to start and see how it shines on your piece. A flush or semi-flush ceiling mount is an excellent option for oil paintings.
To draw more attention to your piece, use a recessed ceiling light.
Recessed ceiling lighting provides a subtle even wash of light over walls.
Track lights
For a minimalist look, track lighting is a great choice for displaying your artwork. Often the lights can be moved and adjusted along the track providing flexibility when illuminating your piece. They provide a similar experience as ceiling-mounted lights.
Track-lit artwork via @dotandpop
Wall washers
Wall washers can be installed in many variations – including recessed, track or surface mounted. They can be placed on the ceiling or within flooring. This method of artwork lighting is great for gallery walls as it evenly distributes light and can cover the entirety of a wall.
Wall wash provided by small ceiling lights
Picture lights
For a museum-like feel, picture lights beckon in viewers for a closer look. Wall light for artwork is sure to provide an intimate display of your piece. These are now fairly easy to find battery-operated, which is much simpler than managing elegantly placing cords.
Artwork lit with picture light mounted to the wall
Shop our picks:
LampsPlus Antique Brass 11 1/2" Wide Battery Powered LED Picture Light
West Elm Light Rods Art Sconce, Antique Brass
Wayfair "Alcott Hill" Battery Operated LED
Letting Your Artwork "Go Natural"
You may find that the artwork lighting best for your piece is solely natural lighting. If this is the case, be sure to position your art in a place with indirect light.
Paintru original Van Gogh reproduction hung beautifully with natural lighting only
Artwork lighting is the final step in displaying your masterpiece and though you can't go wrong with a Paintru piece, proper lighting can make all the difference in the world. Have fun illuminating your piece and seeing what lights make it shine the brightest.
Learn more about how to create your own piece of custom artwork, with Paintru