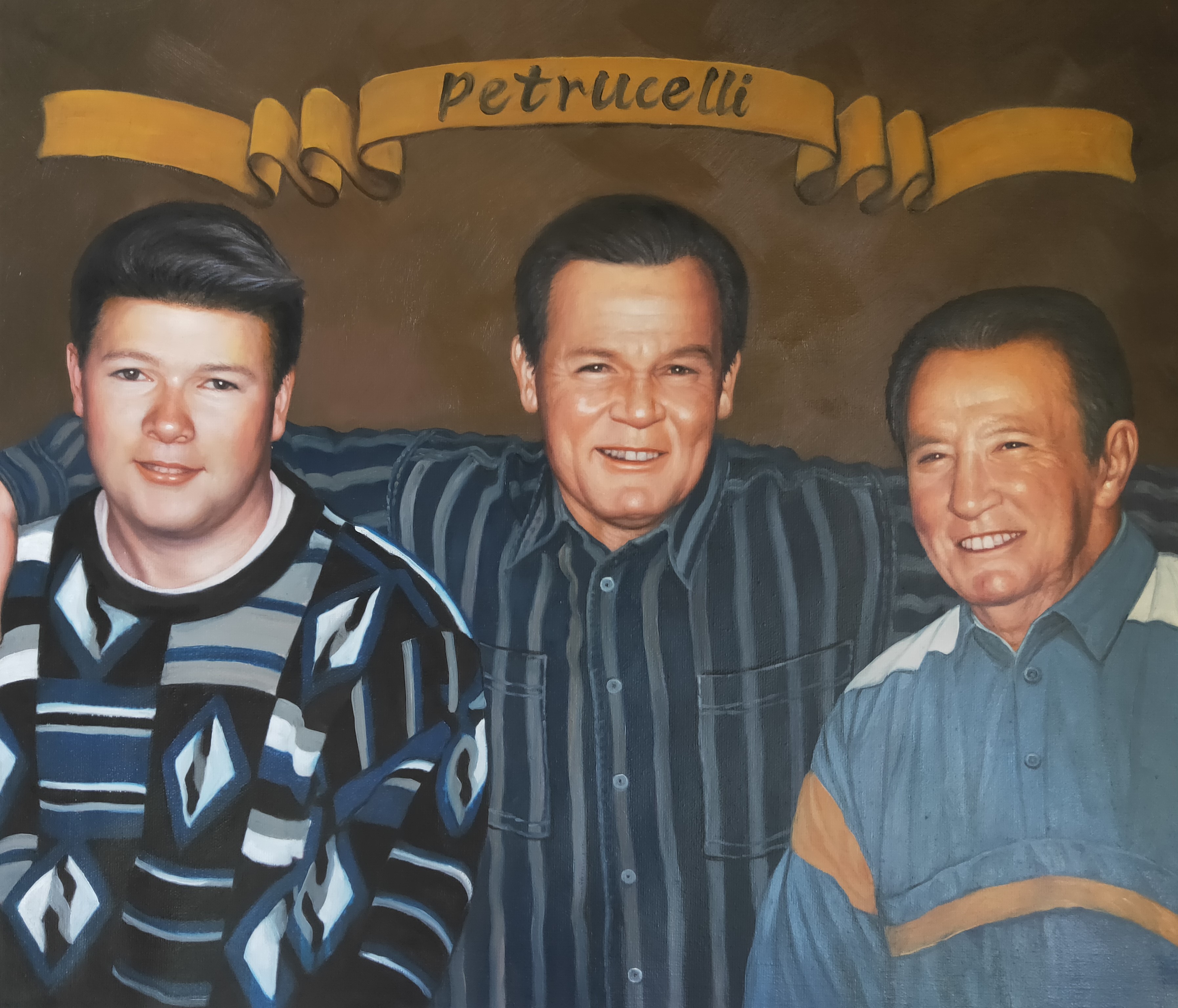 "The look on my husband's face as he locked eyes with his father and grandfather will continue to be one of the most heartening moments of my life."
Planning a gift in secrecy and looking to merge several images together? Paintru artists skillfully meld many sources into one perfect masterpiece - read below to learn more!
For our next Customer Spotlight, we're thrilled to feature Candace's very special 50th birthday gift for her husband!

Table of Contents
How did you find Paintru?
For my husband's 50th birthday I wanted to do something extra special. Because of COVID, a luxury vacation, night on the town, or prestige golf pass was out of the question! "What can I do," I thought, "that'll really make an impact while also staying socially distanced." As I considered what to do, I remembered seeing a couple on KTLA (Los Angeles news station) a few months prior introducing their business to the folks in Southern California. I couldn't recall the name of the business but remembered their faces as well as the beautiful displays setup beside them. I went online and after a brief but frantic search, I found JD and Liza from Paintru and immediately contacted a representative from the company - Brendan at Paintru!
Tell us more about the Birthday Boy!
My husband was raised by a single-father and naturally became very close to him and his grandfather. These three men were as close as peas in a pod for almost 40 years. Sadly, my husband's father was diagnosed with MS at a very young age and eventually passed away from it, only a few short years after his own father's passing. My husband was heartbroken from this loss. When I first met my husband, he often spoke about his two heroes and the impact they made on his life. Although they passed before I met my husband, I felt like I knew them from the stories he'd tell while simultaneously falling in love with the man they molded.

Through generations of moves and divorces, nostalgic belongings became scarce to my husband. Somehow he managed to hold on to a miniature ceramic light-up Christmas tree and a small box of old photos. While secretly scavenging through the box late one night I discovered a beautiful photo of the three generations of men. It was small, the corner was torn off, the background was aged, the colors of their clothing clashed, and my husband was wearing a baseball cap... but it was all I had to work with, especially in secrecy.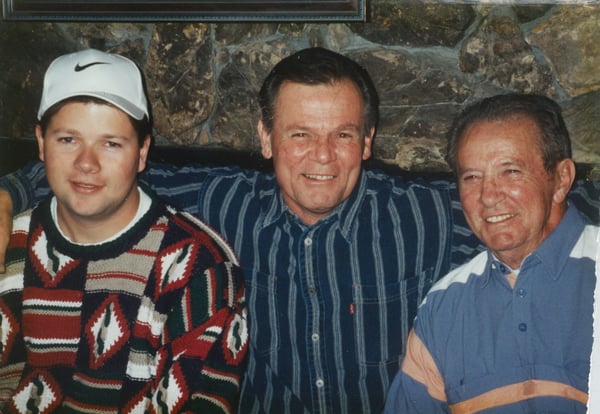 My Husband Alongside His Late Father, and Grandfather
Working with Paintru
Submitting my Paintru order was one of the most vulnerable online orders I've ever made - it's such a deeply personal memory after all. If it weren't for the local news network, I don't know if I would've chanced it. As legit as they seemed, you never know with the internet, especially with something this brilliant and reasonably priced. In the special instructions box, I explained in detail what I wanted changed but understood they're not miracle workers. I included another old photo of my husband showing his hair so if the artist was somehow able to remove the baseball cap they would know what to replace it with.

As I waited with anticipation for the opportunity to see a first draft of the artwork, the Paintru team was working to bring my dream to life. To my surprise, all of my requests had been applied... INCLUDING removing the baseball cap.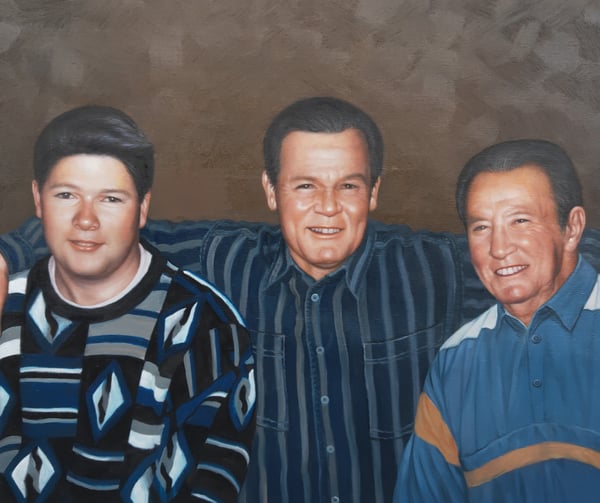 First Draft Came Back Better Than Expected!
Being 'pleasantly surprised' is an understatement. My husband's hairline needed a little tweaking, as his real hairline is more square than the first draft - so I worked with the Paintru team through a quick and easy revision process. As a finishing touch, I wanted to ask whether we could include our family name within a scroll at the top of the painting and the Paintru team obliged.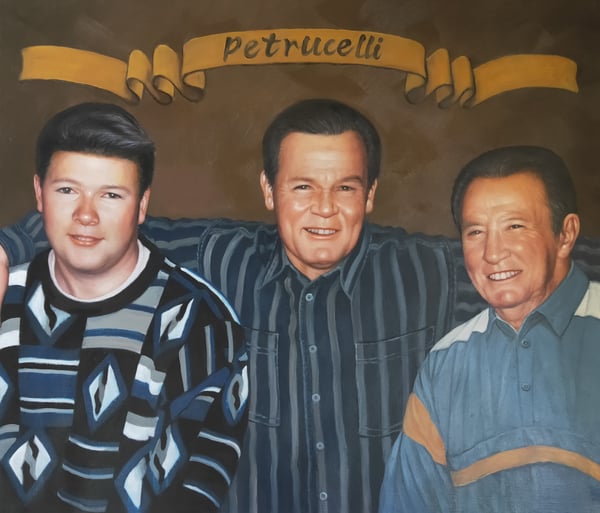 After a Few Revisions, The Portrait Was Complete!
Candace, now that you have had a chance to hold the painting in your hands, what do you think?
I received the painting at my doorstep a little over a month after placing the order (Brendan apologized profusely for a shipping delay - he was really sweating the logistics for a bit due to COVID delays). There genuinely are no words to describe how beautiful this oil painting turned out. Unwrapping the canvas will forever be an unforgettable moment - it made time stand still. These three men could not look more real if they were standing in the room with us. Their skin, their hair, the expressions on their faces, everything... down to the smallest detail.
The look on my husband's face as he locked eyes with his father and grandfather will continue to be one of the most heartening moments of my life. He sobbed seeing their faces again and I wept with joy for him.
Watching KTLA that day was divine intervention. It led me to Paintru, my amazing representative Brendan who kept in close contact throughout the entire process, and the artist who made my vision come to life. Without them, my husbands birthday would've been a day full of "I owe you's," instead it was an intimate evening at home where he could tear up in privacy, tell stories again and make phone calls to express the pure joy he was feeling on his 50th birthday.
What is one thing you would you like to share with someone considering an emotionally compelling Paintru Portrait?
If I could change one thing about my experience with Paintru, I would have thought about the idea earlier, which would have allowed me to place my order earlier. Any oil painting takes time, let alone a personalized one. I was in agony for a month straight wondering if it would be completed and shipped on time. I wish I had ordered the painting earlier, ensuring a peaceful wait as well as allowing extra time for the framing process.
Because we were getting close to my husband's birthday, I had to bypass the custom framing option. I truly would have paid twice the amount of what I paid for this portrait. The joy it brings my husband when he sees it every day was worth every penny and I cannot recommend this company and team strongly enough!

Thank You, Paintru, for helping us make this dream a reality!